Welcome to a delightful escape on the enchanting Isle of Wight in the United Kingdom. Nestled amidst stunning landscapes and surrounded by the azure waters of the English Channel, indulge in a truly unforgettable experience by staying in one of the exquisite secluded residences this captivating island has to offer. Immerse yourself in privacy and exclusivity as you discover a world of luxurious living at its finest within these opulent hideaways.
The Isle of Wight boasts an array of private villas that are sure to captivate even the most discerning traveler. Embrace serenity and seclusion as you bask in the beauty of your surroundings, whether it be panoramic views of rolling hills or breathtaking coastal vistas. These elegant retreats provide an idyllic haven where you can unwind and recharge your senses, away from the hustle and bustle of everyday life. Each villa exudes charm and sophistication, with tastefully appointed interiors designed for both relaxation and entertainment. Experience unrivaled comfort as you luxuriate in spacious living areas adorned with plush furnishings, while state-of-the-art amenities cater to your every need.
Immerse yourself in authentic island living as you venture beyond your private sanctuary to explore all that Isle of Wight has to offer. Discover quaint villages steeped in history, picturesque beaches perfect for sun-soaked days, and an abundance of outdoor activities for those seeking adventure. Whether you choose to embark on scenic hikes along rugged cliffs or sample delectable local cuisine at charming seaside eateries, there is never a shortage of experiences waiting just moments away from your villa's doorstep.
Escape into a world where luxury knows no bounds – book a stay at one of these prestigious private villas on the mesmerizing Isle of Wight today!
Best Isle of Wight Private Villas
Benamara (Ryde)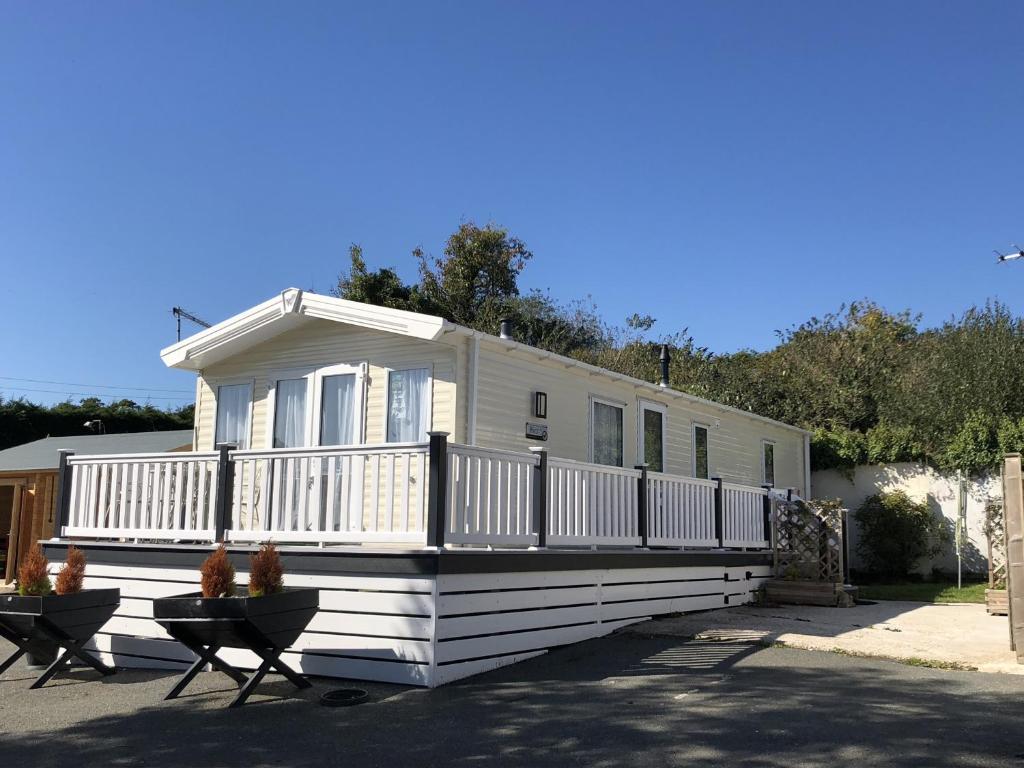 Benamara in Ryde is a stunning holiday home that offers luxurious accommodations and a serene atmosphere. Located within 10 km of the famous Osborne House and 23 km from the exciting Blackgang Chine, this private villa is perfect for those looking to explore the area's attractions. Built in 2016, the holiday home boasts modern amenities and stylish decor. With 2 bedrooms, 2 bathrooms, comfortable bed linen, and towels provided, guests can expect a comfortable stay. The fully equipped kitchen allows for easy meal preparation while the balcony offers beautiful garden views. Additionally, free WiFi is available throughout the property. For those interested in history and nature, Dinosaur Isle and Carisbrooke Castle are conveniently located nearby. Southampton Airport is also just 49 km away from Benamara.
– Close proximity to popular attractions such as Osborne House and Blackgang Chine
– Modern amenities and stylish decor
– Fully equipped kitchen for convenient meal preparation
– Balcony with beautiful garden views
– Free WiFi throughout the property
Bliss Beach Hut Breathtaking Views-BRAND NEW (Bembridge)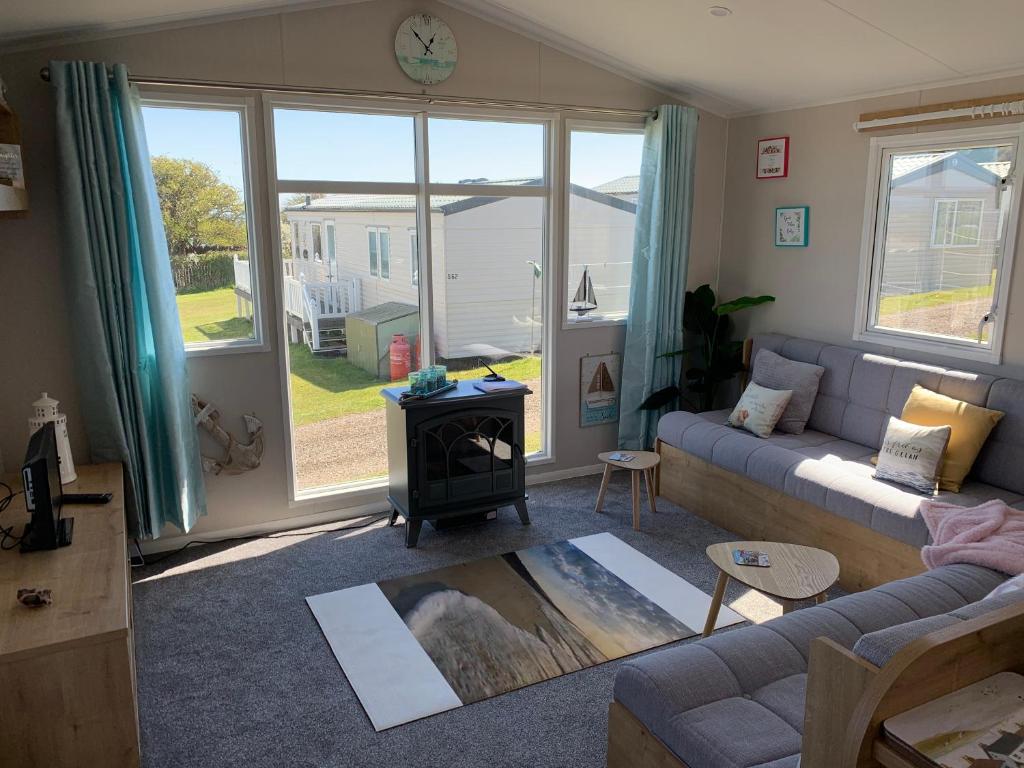 Bliss Beach Hut Breathtaking Views-BRAND NEW is a stunning private villa located in Bembridge, just 400 meters from Whitecliff Bay Beach. This beachfront property offers breathtaking sea views and provides all the comforts needed for a luxurious stay. The villa features two bedrooms, a spacious living room with a flat-screen TV, an equipped kitchen with modern appliances, and a bathroom with a shower. Guests can enjoy the convenience of free WiFi, a restaurant on-site, and a 24-hour front desk. Additionally, there are barbecue facilities available for guests to use. For those traveling with children, there is a playground on-site and plenty of opportunities for fishing nearby. With its private beach area and close proximity to popular attractions such as Osborne House and Blackgang Chine, Bliss Beach Hut Breathtaking Views-BRAND NEW is the perfect destination for those seeking both relaxation and adventure.
Pros:
– Spectacular sea views from the balcony
– Access to a private beach area
– On-site restaurant for convenient dining options
– Free WiFi available throughout the villa
– Playground for children's entertainment
Cliffhanger 18 Castle Road (Cowes)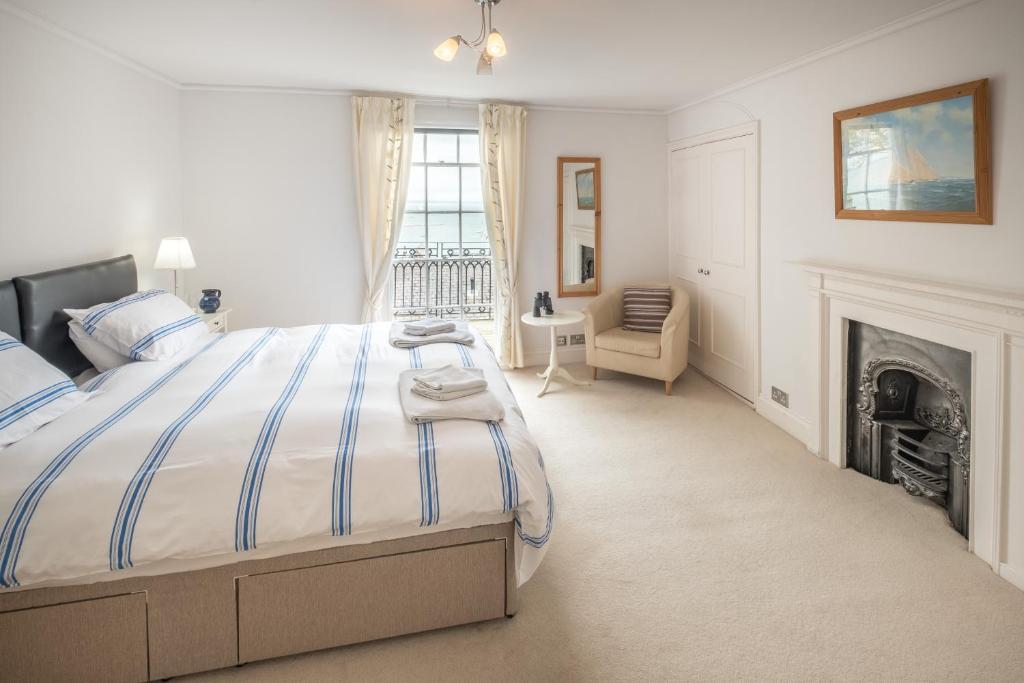 Cliffhanger, located at 18 Castle Road in Cowes, offers breathtaking views of the sea and a range of luxurious amenities. This stunning holiday home features a spacious patio, perfect for enjoying outdoor meals and barbecues with family and friends. The roof terrace provides a tranquil setting to relax and take in the magnificent surroundings. With its convenient location, just a short walk from the sea front, restaurants, shops, and ferry terminal, guests have easy access to all that Cowes has to offer. The accommodation at Cliffhanger includes five beautifully decorated bedrooms and four modern bathrooms. Guests can also take advantage of the fully equipped kitchen, complete with a dishwasher, microwave, and washing machine. Other amenities such as free wifi and private parking ensure a comfortable stay.
– Breathtaking sea views.
– Spacious patio and roof terrace.
– Conveniently located near local attractions.
– Five beautifully decorated bedrooms.
– Fully equipped kitchen for convenience during your stay.
Other places to stay in Isle of Wight
Best Private Villas in Isle of Wight With a View
The Isle of Wight offers a stunning selection of private villas with breathtaking views. From cliffside retreats to beachfront properties, these villas provide the perfect backdrop for a luxurious and memorable getaway.
Poachers Hut – Captivating 1-bed Cottage IOW (Shorwell)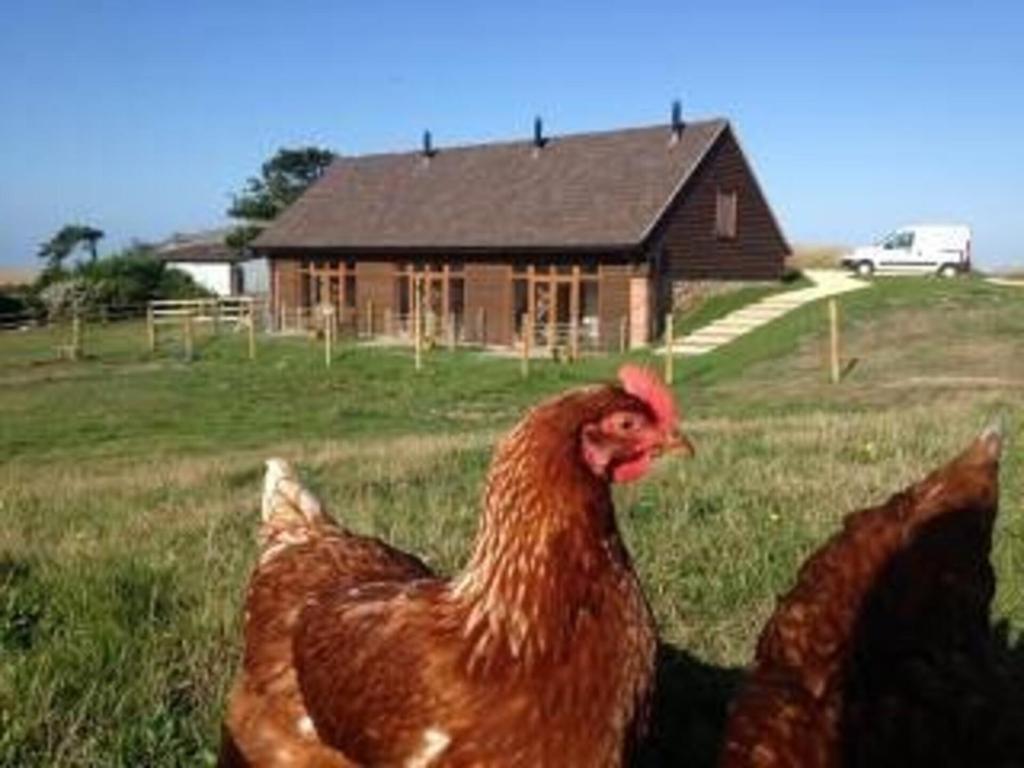 Located within 6.9 km of Blackgang Chine and 20 km of Osborne House, Poachers Hut – Captivating 1-bed Cottage IOW in Shorwell offers guests a charming and comfortable stay on the Isle of Wight. This holiday home features free WiFi and a garden, providing a peaceful retreat for visitors. With convenient access to attractions such as Carisbrooke Castle and The Isle of Wight Donkey Sanctuary, guests can easily explore the island's rich history and natural beauty. The cottage includes one bedroom and a cozy living room with a TV, ensuring a relaxing atmosphere during your stay. Towels and bed linen are provided for added convenience. Additionally, guests can visit nearby Amazon World Zoo Park or venture to Robin Hill for more adventure. With Bournemouth Airport just 54 km away, traveling to and from the cottage is hassle-free.
Pros:
– Free WiFi available throughout the property
– Beautiful garden area for relaxation
– Convenient location near popular attractions
– Cozy living room with a TV for entertainment
– Nearby airport provides easy access to transportation options
Chalet Driftwood (Sandown)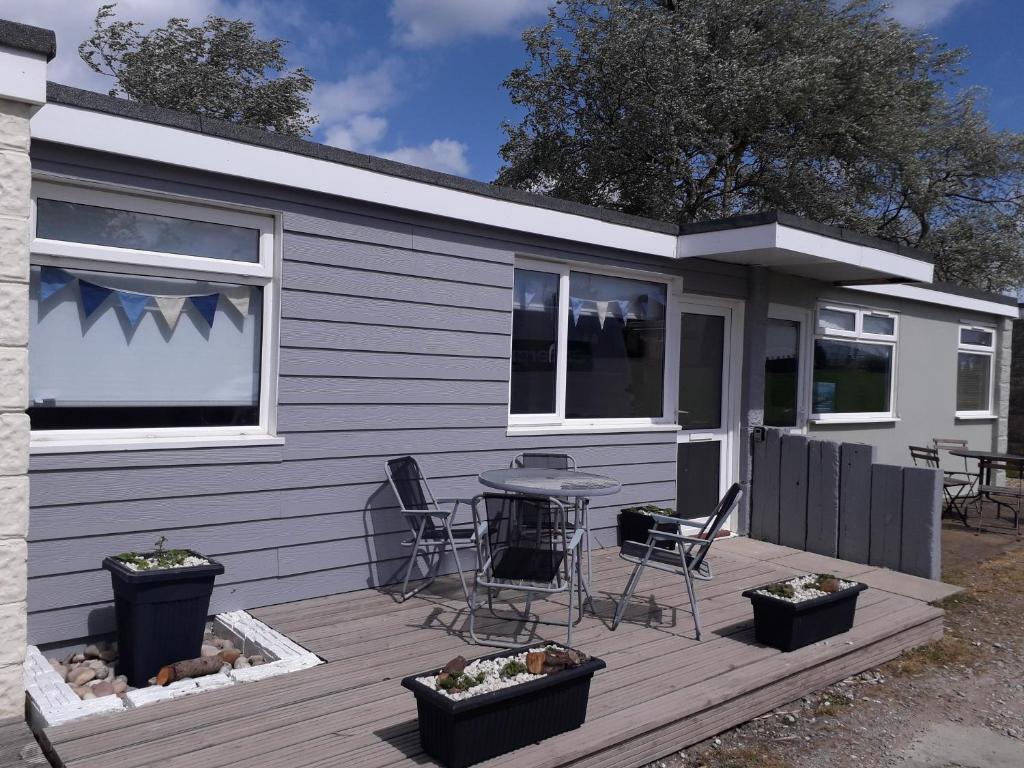 Located in the picturesque town of Sandown, Chalet Driftwood is a beachfront holiday home that offers guests a luxurious and relaxing getaway. With its prime location just 700 metres from the stunning Sandown Beach, guests can easily enjoy days spent sunbathing, swimming, and building sandcastles. The holiday home features two spacious bedrooms, a well-appointed bathroom, and a fully equipped kitchen with all the amenities needed to prepare delicious meals. The cozy living area boasts a flat-screen TV and a dining area for guests to enjoy meals together. Additionally, the terrace offers beautiful garden views where guests can unwind and soak up the peaceful surroundings. For those looking to explore the area further, cycling is possible in the surrounding areas. Whitecliff Bay Beach is only 3 km away and Osborne House is just 19 km away. Southampton Airport is also conveniently located 58 km from Chalet Driftwood.
– Beachfront location providing easy access to Sandown Beach
– Well-equipped kitchen for self-catering convenience
– Cozy living area with flat-screen TV for entertainment
– Terrace with garden views for relaxation
– Nearby attractions include Whitecliff Bay Beach and Osborne House
Information about Private Villas in Isle of Wight
| | |
| --- | --- |
| 🏢 Number of Private Villas in Isle of Wight | 5 |
| 🥇 Average Review Score | 9.5/10 |
| 💰 High season average price | 1232 |
| 💸 Low season average price | 308 |
FAQ
Can I find private villas in Isle of Wight?
Absolutely! The Isle of Wight offers a wide range of private villas for those looking to enjoy a luxurious stay on the island. From elegant Victorian mansions to modern beachfront properties, you'll have plenty of options to choose from.
What amenities can I expect in a private villa in Isle of Wight?
Private villas in Isle of Wight are designed with comfort and luxury in mind. Most villas feature spacious bedrooms, fully equipped kitchens, stylish living areas, private gardens or swimming pools, and stunning views of the surrounding area. Some properties even offer additional amenities like hot tubs or home theaters for an extra touch of indulgence.
Are private villas suitable for families with children?
Yes, absolutely! Private villas in Isle of Wight are perfect for families with children. These accommodations offer plenty of space for everyone to relax and play together. Additionally, many properties provide family-friendly features such as game rooms or outdoor playgrounds to keep the little ones entertained during their stay.
Do I need to hire staff at a private villa?
The need for hiring staff at a private villa depends on your personal preferences. While some guests prefer having dedicated staff members catering to their every need, others may prefer a more independent stay without any staff interruptions. Many private villa rentals offer optional services like housekeeping or chef services that you can customize according to your requirements.
Are there any activities near the private villas in Isle of Wight?
Certainly! The island offers a plethora of activities near the private villas. You can explore breathtaking coastal walks along the cliffs, visit historical sites such as Osborne House or Carisbrooke Castle, enjoy water sports like sailing or paddleboarding at one of the gorgeous beaches around the island, or simply indulge in shopping and dining experiences at charming towns like Cowes or Ventnor
Popular Villas destinations
Top 5 Private Villas in Isle of Wight