Welcome to the mesmerizing island of Corfu, a pristine gem nestled in the heart of Greece's Ionian Sea. If you're seeking an unparalleled escape from everyday life, look no further than the private villas that dot this enchanting destination. Imagine indulging in ultimate seclusion and luxury amidst breathtaking natural beauty—the epitome of opulence awaits you here.
Corfu's secluded villas offer a truly exclusive experience for those craving privacy and tranquility during their getaway. Leave behind the hustle and bustle of crowded resorts as you retreat to your own personal haven, surrounded by lush greenery and stunning vistas. These resplendent abodes cater to discerning travelers who appreciate refined elegance and personalized service. With lavish amenities at your fingertips, from private pools to state-of-the-art spa facilities, every aspect has been meticulously designed to ensure your utmost relaxation.
Whether you desire beachfront access or prefer a hillside retreat overlooking the glistening turquoise waters below, Corfu offers an impressive array of private villas tailored to suit your preferences. Discover the hidden charms of this Mediterranean paradise as you unwind in style within these havens of exclusivity. From romantic escapes for couples to spacious estates perfect for family gatherings, there is a villa for every occasion on this captivating island.
Embark on a journey where privacy merges seamlessly with luxury; Corfu's private villas await your arrival with open doors and extraordinary hospitality—a vacation beyond compare awaits you here in this Greek paradise.
Best Corfu Private Villas
Black Rocks Family (Agios Gordios)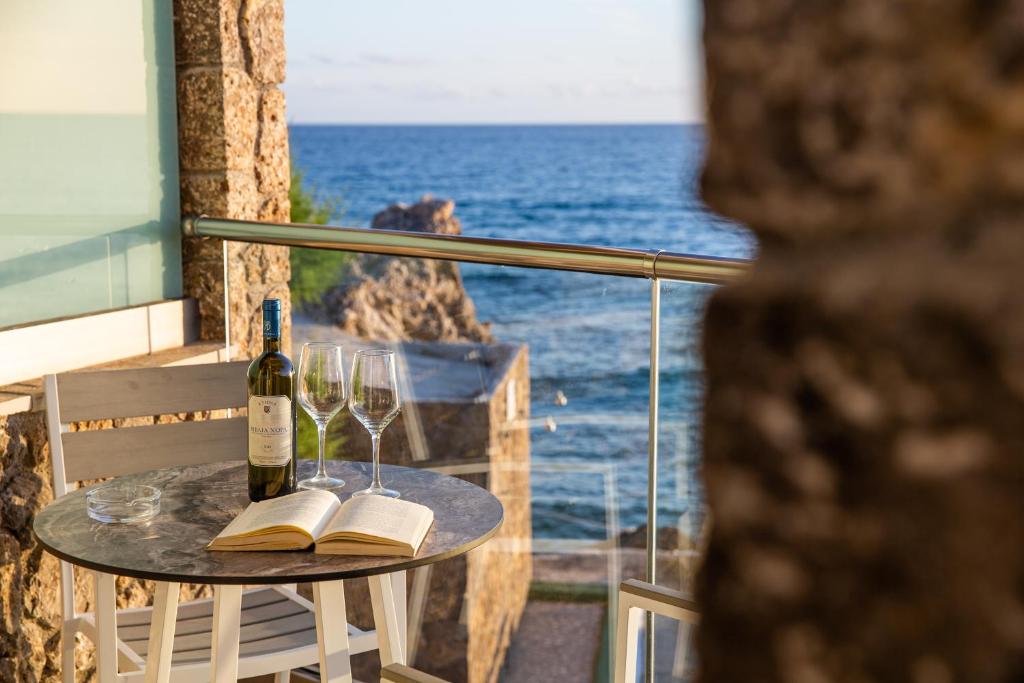 Boasting stunning sea views and luxurious amenities, Black Rocks Family is the perfect choice for a memorable stay in Agios Gordios. This Luxury Seafront maisonette offers free WiFi, a terrace, and an on-site restaurant. The spacious holiday home features two bedrooms, a well-equipped kitchen, and a modern bathroom with all the necessary amenities. Guests can enjoy access to free bikes and private parking during their stay. Additionally, car rental services are available for those who wish to explore the area further. The hotel's prime location allows guests to easily visit popular attractions such as Achilleion Palace and Pontikonisi. With paid airport shuttle services provided by Corfu International Airport just 17 km away, convenience is at your doorstep when staying at Black Rocks Family.
Pros:
– Breathtaking sea views from the comfort of your own villa
– Free bikes available for guests to explore the beautiful surroundings
– On-site restaurant offering delicious meals
– Convenient access to private parking
– Close proximity to popular attractions like Achilleion Palace and Pontikonisi
Medusa's Villas (Acharavi)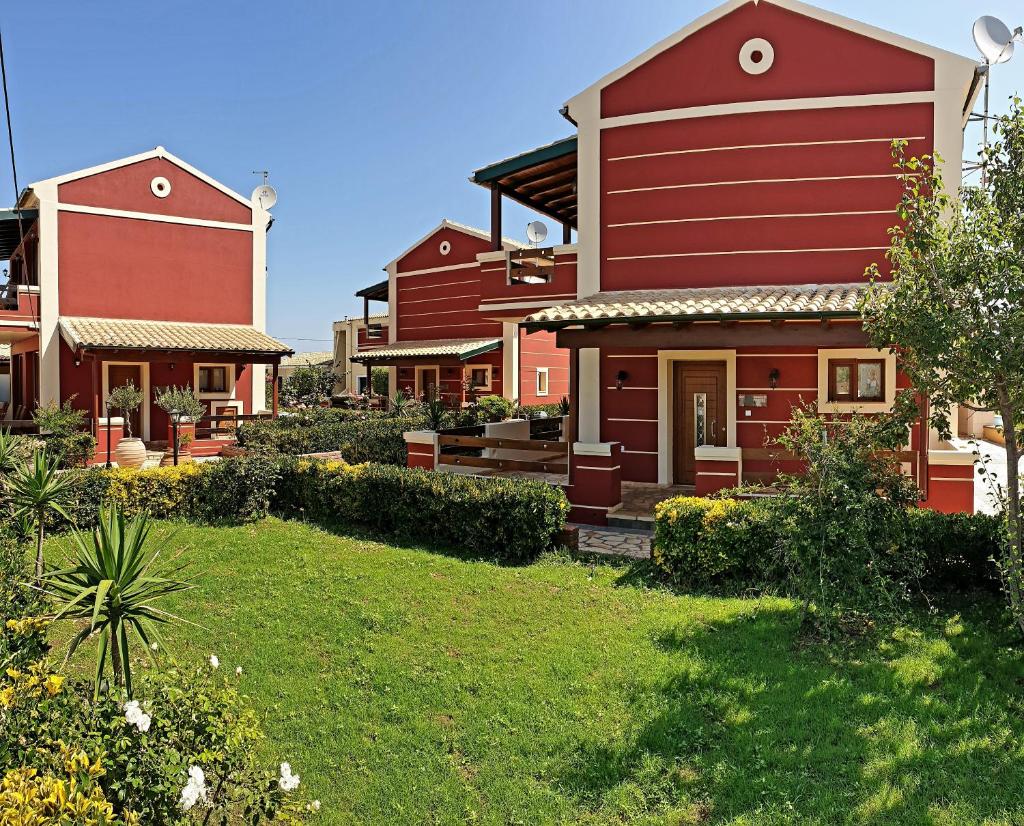 Medusa's Villas in Acharavi is a luxurious accommodation option located just 60 meters from the beautiful Acharavi Beach. This private villa offers guests a range of amenities including a garden, shared lounge, and air-conditioned rooms with balconies and free WiFi. The villas feature spacious terraces with stunning sea views, comfortable seating areas, satellite flat-screen TVs, fully equipped kitchens with modern appliances such as fridges and dishwashers, and private bathrooms with showers and complimentary toiletries. Additionally, guests can enjoy access to a microwave, minibar, toaster, coffee machine, and kettle during their stay. For those looking to explore the area's natural beauty or engage in outdoor activities, hiking and fishing are popular options available near the property. Medusa's Villas is conveniently situated just 1.5 km away from Roda Beach and 25 km from Angelokastro. The nearest airport is Corfu International Airport which is located 37 km away.
– Close proximity to Acharavi Beach
– Spacious terraces offering breathtaking sea views
– Fully equipped kitchen with modern appliances
– Free WiFi access throughout the property
– Access to hiking trails and fishing spots nearby
Odysseus Villa (Paleokastritsa)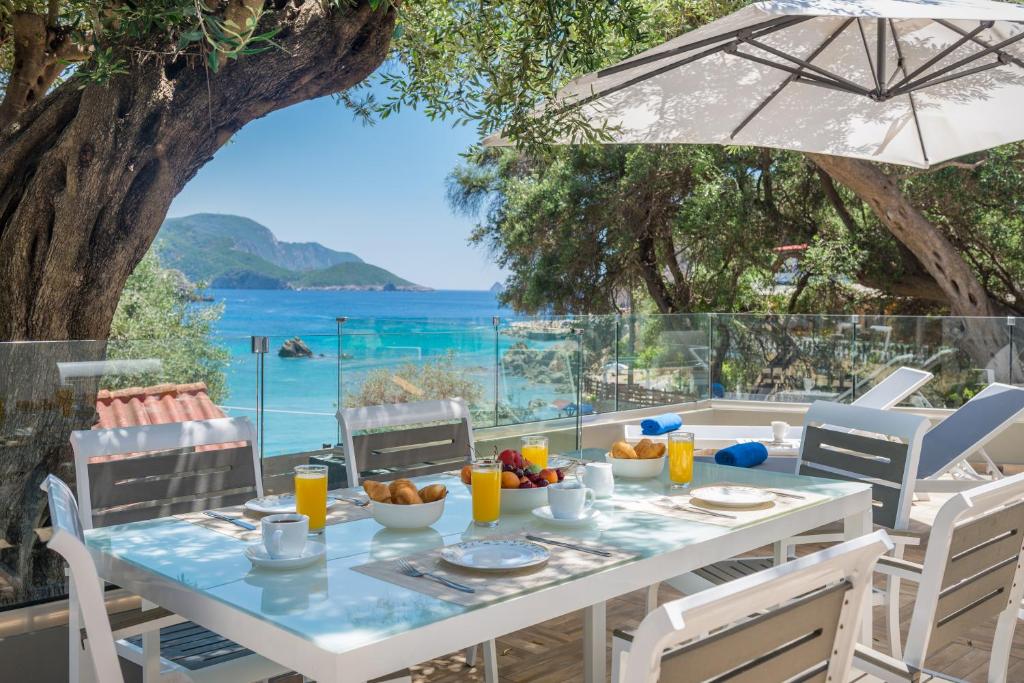 Odysseus Villa is a beautiful detached holiday home located in the charming area of Paleokastritsa. Situated just a short walk from the beach and Theotokos Monastery, this villa offers guests a convenient and luxurious stay. The villa boasts two bedrooms and two bathrooms, along with a spacious living room featuring a cozy fireplace. The fully equipped kitchen, complete with a dishwasher, allows guests to prepare their own meals with ease. Additionally, the villa offers free WiFi throughout and even has a customizable lighting system for added convenience. Surrounded by olive trees in its garden, the property displays an elegant decor with modern furnishings. Guests will be delighted to find furnished outdoor terraces that offer both outdoor dining areas and sun loungers to bask under the Greek sun. Towels and bed linen are provided for guests' comfort, ensuring they have all they need during their stay. Please note that access to the property is only available via stairs leading to its main entrance. For those looking to explore more of Corfu's beauty, car hire services are available at Odysseus Villa. Moreover, diving enthusiasts will be pleased as the area is renowned for its popularity in diving activities. With Paleokastritsa Beach located just 500 meters away from the villa's doorstep and Corfu International Airport situated 19 km away, Odysseus Villa provides an ideal destination for those seeking relaxation amidst nature's wonders.
– Conveniently located near the beach
– Free WiFi throughout
– Fully equipped kitchen with dishwasher
– Furnished outdoor terraces with dining areas and sun loungers
– Accessible car hire services nearby
Other places to stay in Corfu
Best Private Villas in Corfu With a View
Corfu is home to some of the most stunning private villas with breathtaking views. These exclusive retreats offer unparalleled privacy and an incredible backdrop of the island's lush landscapes and sparkling blue waters, making them the perfect choice for those seeking a luxurious getaway in Greece.
Nissaki Olive Press Villas (Nisakion)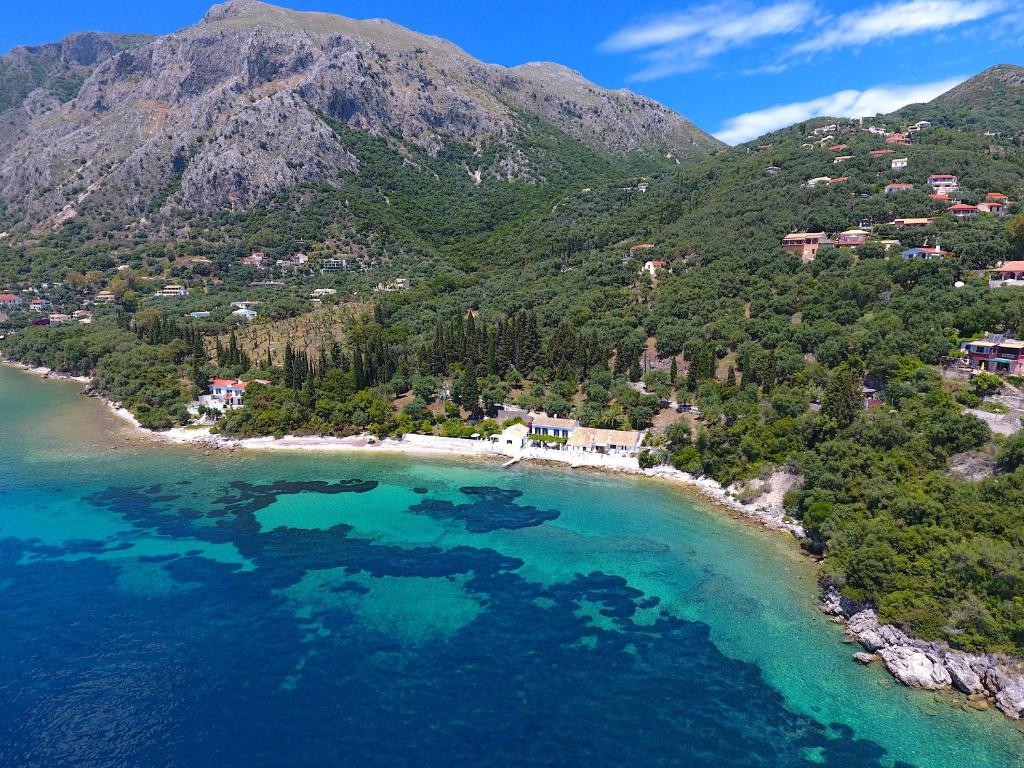 Located in the picturesque town of Nisakion on the Ionian Islands, Nissaki Olive Press Villas offers a luxurious and comfortable retreat. Just steps away from Nissaki Beach, this property provides guests with free WiFi, a children's playground, and a beautiful garden. The villas feature spacious terraces with stunning sea views, along with satellite flat-screen TVs, cozy seating areas, fully equipped kitchens, and modern bathrooms complete with hairdryers. For those who enjoy outdoor activities, there are opportunities for hiking, skiing, and diving in the surrounding area. Guests can also take advantage of the private beach area provided by Nissaki Olive Press Villas. With additional amenities such as barbecue facilities and convenient appliances like fridges, ovens, dishwashers,and kettles available in each villa,this hotel ensures that guests have everything they need for an enjoyable stay. The accommodation is conveniently located near Glyfa Beach and is less than 1 km away from Nissaki Beach. Corfu International Airport is just 21 km from Nissaki Olive Press Villas.
– Prime location near beautiful beaches
– Spacious villas with sea view terraces
– Free WiFi access throughout the property
– Convenient amenities such as fridges,
ovens,dishwashers,and kettles available
Agallis Corfu Residence (Sokrakion)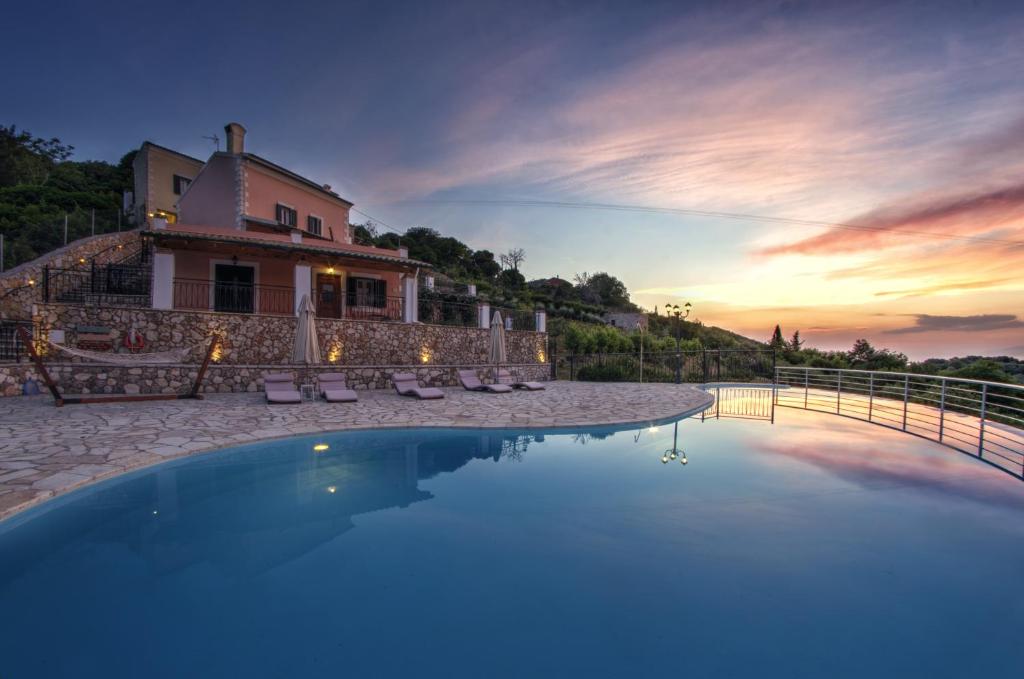 Located in the charming village of Sokraki, Agallis Corfu Residence offers two traditional and fully equipped villas with spacious verandas that provide breathtaking views of the lush green slopes and the sparkling Ionian Sea. The property features a refreshing pool and complimentary WiFi access throughout. Each villa boasts a comfortable living room with a DVD player, while the air-conditioned rooms are tastefully decorated with wrought iron beds and dark wood furnishings. Guests can enjoy cooking in the fully fitted kitchen or relax in front of the satellite LCD TV. The stone-paved terrace is perfect for BBQs and al fresco dining, and guests are treated to complimentary fruits and vegetables from the garden. For those seeking sun-soaked beaches, Acharavi, Roda, and Sidari are just 12 km away, while Corfu Airport is within easy reach at 24 km. With free on-site parking available, Agallis Corfu Residence promises a truly relaxing stay.
– Fully equipped villas
– Stunning views from large verandas
– Inviting pool area
– Complimentary WiFi access
– Convenient location near beautiful beaches
Summer Village House Popi (Kanakádes)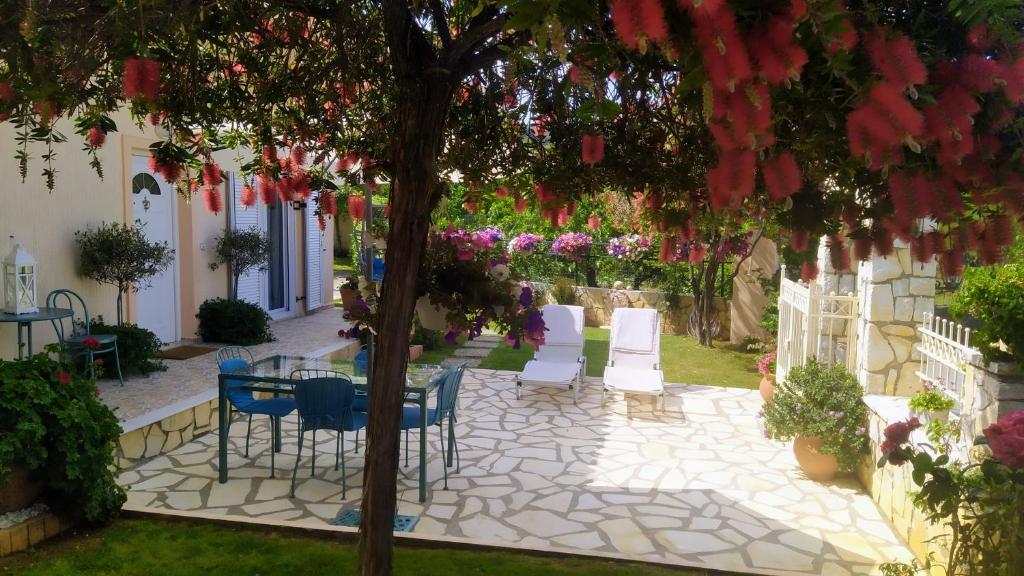 Located in Kanakádes, Summer Village House Popi is a charming holiday home that offers breathtaking mountain views. With a spacious terrace and balcony, guests can relax and take in the beauty of their surroundings. The property features a garden, barbecue facilities, free WiFi, and free private parking for added convenience. The holiday home consists of 3 bedrooms, a cozy living room, a fully equipped kitchen with modern amenities such as a fridge and coffee machine, and 1 bathroom with complimentary toiletries. Guests will also find towels and bed linen provided during their stay. For those looking to explore the area, the Port of Corfu is just 17 km away while Ionio University is 18 km from the property. Additionally, Summer Village House Popi offers a car rental service for easy transportation around the island. With its close proximity to Corfu International Airport (17 km), guests can also opt for a paid airport shuttle service if needed.
– Breathtaking mountain views
– Spacious terrace and balcony
– Free WiFi and parking available
– Fully equipped kitchen with modern amenities
– Car rental service for convenient exploration
Romantic Villas in Corfu
Corfu offers a wide range of romantic villas for couples looking to escape to a picturesque and idyllic destination. With stunning views, private pools, and luxurious interiors, these villas create the perfect intimate setting for a romantic getaway in Corfu.
Villa Artemis (Barbati)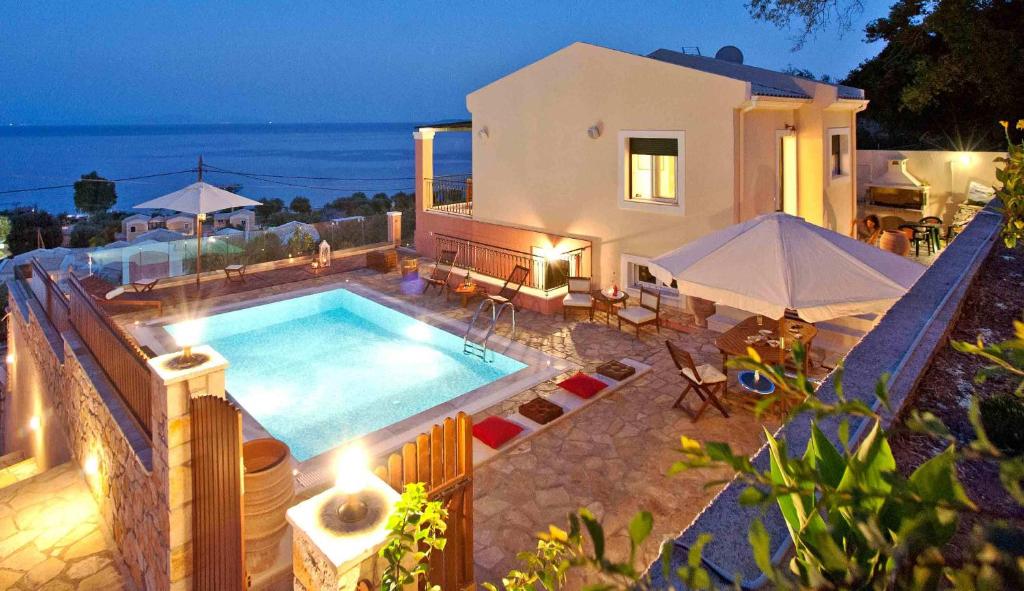 Villa Artemis in Barbati is a stunning holiday home located just 100 meters from Barbati Beach and at the foot of Mount Pantokrator. This luxurious villa features an outdoor pool, a sun terrace with loungers, and a beautifully manicured garden. The interior is decorated with light wood furnishings and earthly tones, providing a warm and inviting atmosphere. From the villa, guests can enjoy breathtaking views of the Ionian Sea, the garden, and the pool. Amenities include free Wi-Fi throughout the property, an open-plan dining and living area with a satellite flat-screen TV and DVD player, as well as a fully equipped kitchen with modern appliances such as a fridge, stove, and microwave. Additionally, the bathroom is stocked with complimentary toiletries and includes a hairdryer for added convenience. Villa Artemis offers easy access to nearby attractions such as Barbati village (only 200 meters away) where guests can explore local shops and restaurants or visit Ipsos which boasts vibrant nightlife just 3 km away. For those looking to venture further out, Corfu Town is only 20 km from Villa Artemis. Guests traveling by car will appreciate free private parking provided on-site.
– Stunning outdoor pool
– Sun terrace with loungers
– Beautifully manicured garden
– Breathtaking views of Ionian Sea
– Close proximity to local attractions
Corfu Garden Villas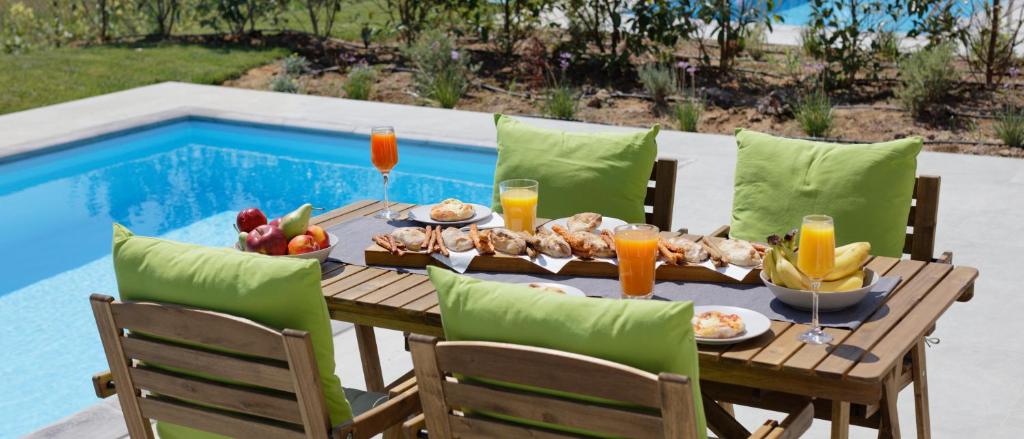 Corfu Garden Villas is a stunning villa complex located just 5.4 km away from Panagia Vlahernon Church in Corfu. Each villa offers picturesque pool views and comes with a private pool, garden, barbecue facilities, and free WiFi for guests to enjoy. The air-conditioned villas feature one bedroom, a spacious living room, fully equipped kitchenette with modern appliances, and a bathroom stocked with free toiletries. Towels and bed linen are provided for added convenience. Guests can make use of the outdoor swimming pool and terrace, as well as explore nearby hiking and cycling trails. Ionio University and Port of Corfu are both situated within a short distance from the property. For easy travel arrangements, Corfu International Airport is conveniently placed just 4 km away.
– Breathtaking pool views
– Private pools in each villa
– Beautifully landscaped garden
– Free WiFi throughout the property
– Convenient location near popular attractions
Villa Caesar (Agios Ioannis)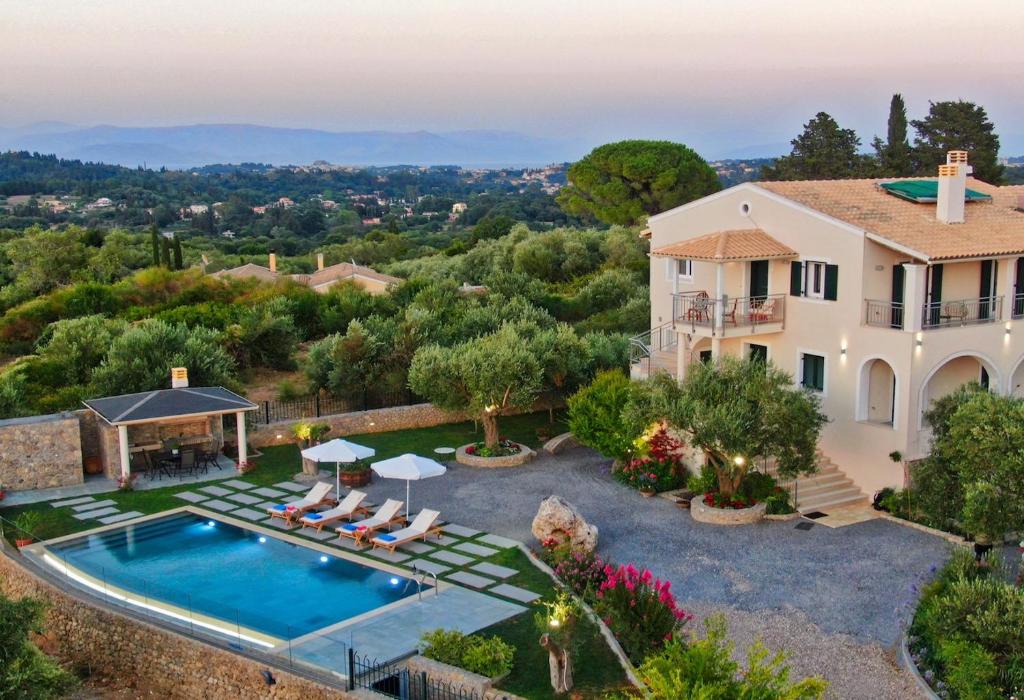 Villa Caesar in Agios Ioannis offers a luxurious and relaxing stay with stunning city views. This spacious villa features a terrace and balcony, perfect for enjoying the beautiful surroundings. It boasts a private pool, a well-maintained garden, and convenient barbecue facilities for outdoor gatherings. The villa is fully equipped with modern amenities including free WiFi, air conditioning, and free private parking. With two bedrooms, a living room, a fully equipped kitchen, and two bathrooms, it provides ample space for guests to unwind and feel at home. Towels and bed linen are provided for added convenience. Located just 7.6 km from Panagia Vlahernon Church, close proximity to Ionio University (7.7 km) as well as Port of Corfu (7.8 km) makes Villa Caesar an ideal choice for both leisure and business travelers alike.
– Stunning city views
– Private pool for ultimate relaxation
– Well-maintained garden offering tranquility
– Convenient barbecue facilities
– Modern amenities including free WiFi
Information about Private Villas in Corfu
| | |
| --- | --- |
| 🏢 Number of Private Villas in Corfu | 9 |
| 🥇 Average Review Score | 9.8/10 |
| 💰 High season average price | 316 |
| 💸 Low season average price | 79 |
FAQ
Can you recommend any luxury private villas in Corfu?
Yes, there are several luxury private villas in Corfu that offer a truly exclusive and lavish experience. One highly recommended option is Villa Sirena, located on the idyllic northeastern coast of the island. This stunning waterfront villa boasts breathtaking sea views, a private infinity pool, and luxurious amenities such as a spa area and home cinema. With its elegant design and impeccable service, Villa Sirena is the perfect choice for those seeking a truly indulgent getaway.
Are private villas in Corfu suitable for families with children?
Absolutely! Private villas in Corfu are an excellent choice for families with children. Many of these properties offer spacious layouts with multiple bedrooms and living areas, giving families plenty of room to relax and play. Additionally, most villas come equipped with child-friendly amenities such as swimming pools with shallow areas, game rooms, and even playgrounds. With the privacy and comforts of home combined with the beauty of the Greek island setting, families can create lasting memories together.
What amenities can I expect from a private villa in Corfu?
Private villas in Corfu are known for their exceptional amenities that cater to every need and desire. Depending on the specific property you choose, you can expect luxurious features such as private pools overlooking the sea or countryside, well-manicured gardens perfect for outdoor dining or relaxation, fully equipped kitchens ideal for self-catering options or hiring a personal chef to prepare delicious meals at your convenience. Some properties may also include additional perks like spa facilities, gyms or even direct beach access.
Can I hire staff services at private villas in Corfu?
Yes! Many private villas in Corfu offer additional staff services to enhance your stay. From housekeeping services to ensure your villa stays pristine throughout your trip to dedicated chefs who can prepare exquisite meals using locally sourced ingredients, you have the option to tailor your experience according to your preferences. Some villas may also provide concierge services to assist with arranging activities, excursions, and transportation during your stay.
What is the best time of year to visit Corfu and stay at a private villa?
The best time to visit Corfu and stay at a private villa would be during the spring (April-June) or fall (September-October) seasons. During these months, the weather is generally pleasant with mild temperatures ranging from 18°C (64°F) to 28°C (82°F), making it ideal for outdoor activities and exploring the island. Additionally, these periods are less crowded compared to the peak summer months, allowing you to enjoy a more peaceful and serene vacation experience.
Popular Private Villas destinations
Top 9 Private Villas in Corfu