Welcome to the enchanting world of exclusive mansions in Pennsylvania, USA. Nestled amidst breathtaking landscapes and surrounded by lush greenery, these opulent retreats offer a sanctuary for those seeking ultimate privacy and tranquility. Whether you are planning a romantic getaway or a family reunion, these private residences hold the key to an unforgettable experience.
Indulge yourself in the lap of luxury as you step into one of these lavish abodes. Each villa boasts its own unique charm and character, with elegant furnishings and exquisite architecture that will leave you astounded. Immerse yourself in serenity as you soak up the stunning vistas from your own private patio or relax by the shimmering pool under clear blue skies. With spacious living areas, state-of-the-art amenities, and meticulous attention to detail at every turn, these estates redefine what it means to experience true grandeur.
Pennsylvania's private villas not only offer a haven for relaxation but also provide easy access to some of the state's most renowned attractions. Explore historic landmarks, picturesque countryside, and vibrant urban centers during the day before retreating back to your own secluded paradise at nightfall. Pamper yourself with exceptional service from dedicated staff who cater to your every need, ensuring that your stay is nothing short of extraordinary.
Embark on a journey where luxury knows no bounds – discover Pennsylvania's private villas and unlock a world where comfort meets elegance like never before.
Best Pennsylvania Private Villas
Experience The Serenity Of Pineapple Acre Pocono (Stroudsburg)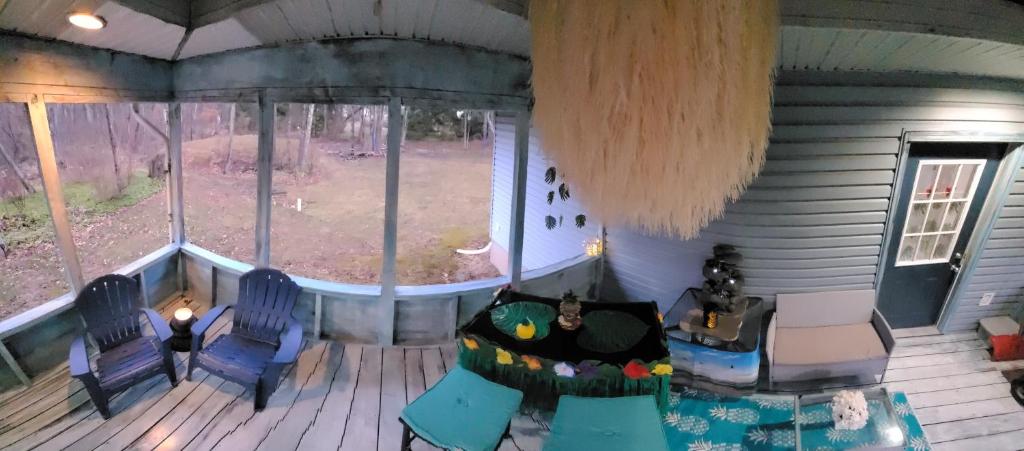 Experience The Serenity Of Pineapple Acre Pocono (Stroudsburg) is a stunning holiday home that offers guests the opportunity to relax and unwind in the midst of beautiful mountain views. Located just 6.9 km from Great Wolf Lodge Pocono Mountains and 23 km from Delaware Water Gap National Recreation Area, this property provides the perfect getaway for nature lovers. The holiday home features three bedrooms, a cozy living room, and a fully equipped kitchen with modern amenities such as a fridge and coffee machine. Guests can enjoy two bathrooms with showers and complimentary toiletries, as well as an additional two bathrooms with a bath and hairdryer. Towels and bed linen are also provided for added convenience. With attractions like Kalahari Waterpark just 19 km away and Pocono Raceway 26 km away, there is plenty to explore in the surrounding area. For those traveling by air, Lehigh Valley International Airport is the nearest airport situated 55 km away.
– Stunning mountain views
– Private patio for relaxation
– Fully equipped kitchen for self-catering
– Complimentary towels and bed linen provided
– Convenient location near popular attractions
Pearl's Place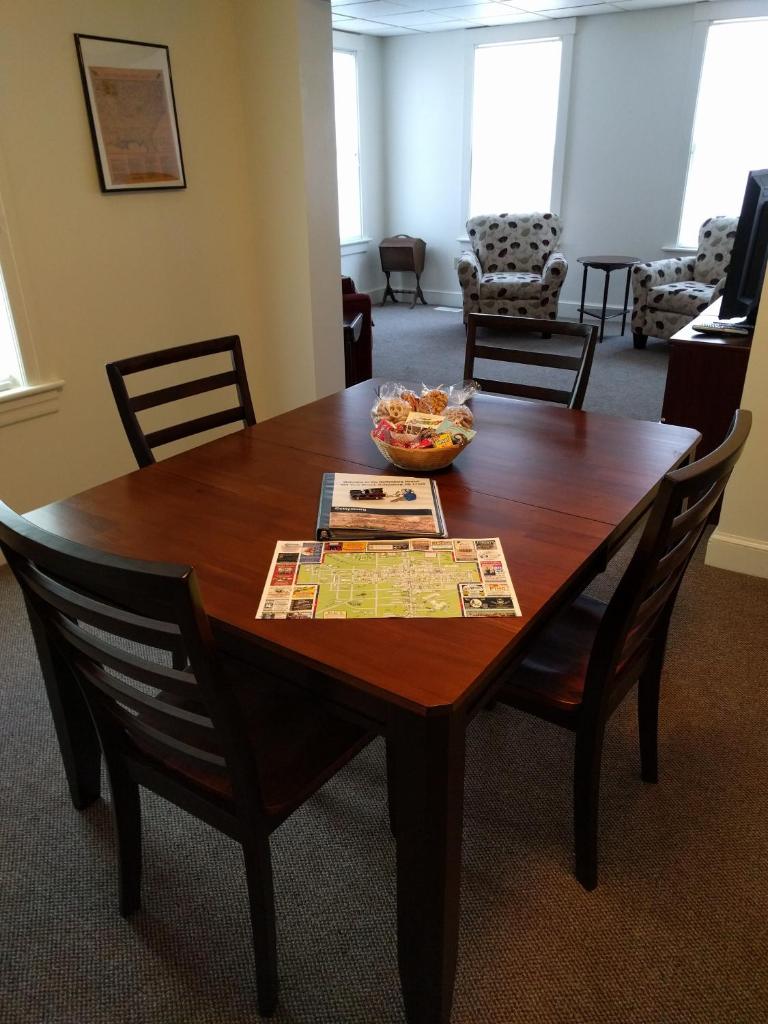 Located in the heart of Gettysburg, Pearl's Place is a luxurious private villa offering exceptional accommodation for guests. Situated less than 1 km from the Gettysburg Museum of History and just a short walk from the Shriver House Museum, this villa provides convenience and easy access to the city's top attractions. The villa features three spacious bedrooms, a comfortable living room, and a fully equipped kitchen with modern amenities. Guests can enjoy the convenience of free WiFi throughout their stay as well as complimentary parking. With hiking, skiing, and cycling opportunities nearby, guests can engage in outdoor activities during their visit. Additionally, Pearl's Place offers ski equipment rental and bicycle rental services for further convenience. Towels and bed linen are provided in the villa to ensure a comfortable stay for all guests. For those interested in exploring more of Gettysburg's history, the Jennie Wade House is just 1.4 km away while the Gettysburg Heritage Center is only 2 km away. The nearest airport is Capital City Airport which is located 62 km from Pearl's Place.
Pros:
– Convenient location near popular museums
– Free WiFi throughout the villa
– Fully equipped kitchen for self-catering options
– Complimentary parking available
– Ski equipment and bicycle rental services offered
Sleek 2 bedroom unit with parking plus car rental!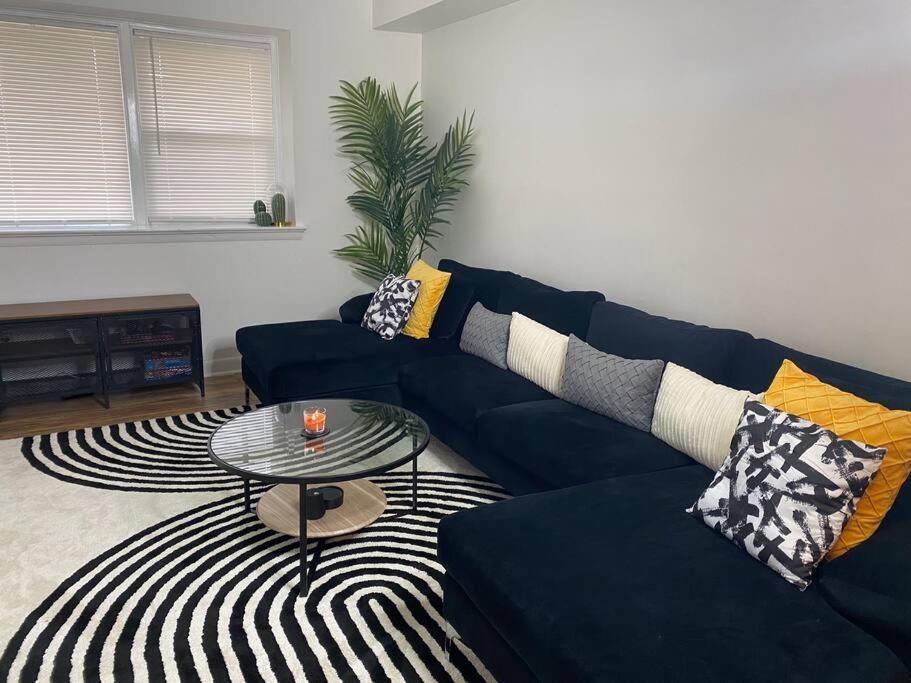 Located in Philadelphia, the Sleek 2 bedroom unit with parking plus car rental! is a fantastic holiday home that offers guests the perfect combination of comfort and convenience. With free WiFi available, guests can stay connected while exploring all that the city has to offer. The property is within close proximity to popular attractions such as the National Liberty Museum, Pennsylvania Convention Center, and Liberty Bell. Additionally, Temple University is just a short distance away.
One of the standout features of this holiday home is its private parking space, which provides ease and peace of mind for those traveling by car. Moreover, guests have the added convenience of being able to rent a car directly from the property.
The Sleek 2 bedroom unit itself is well-appointed and designed with modern furnishings. Guests can enjoy relaxing in the air-conditioned living spaces or preparing meals in the fully equipped kitchen that includes a fridge and an oven. The two bedrooms are comfortable and provide a restful retreat after a day spent exploring Philadelphia.
Overall, staying at this holiday home offers numerous benefits including free WiFi access, proximity to notable attractions like Mann Center for Performing Arts and Barnes Foundation, private parking availability, and even car rental options on-site.
– Free WiFi access for easy connectivity
– Proximity to popular attractions such as National Liberty Museum and Pennsylvania Convention Center
– Private parking space for added convenience
– Car rental options available on-site
– Modern furnishings and well-appointed amenities
Other places to stay in Pennsylvania
Best Private Villas in Pennsylvania With a View
Pennsylvania offers a selection of private villas with stunning views, allowing guests to immerse themselves in the natural beauty of the state. From mountaintop retreats to lakeside havens, these exclusive accommodations provide an idyllic escape surrounded by Pennsylvania's captivating landscapes.
Center City Roofdeck Hot Tub w Garage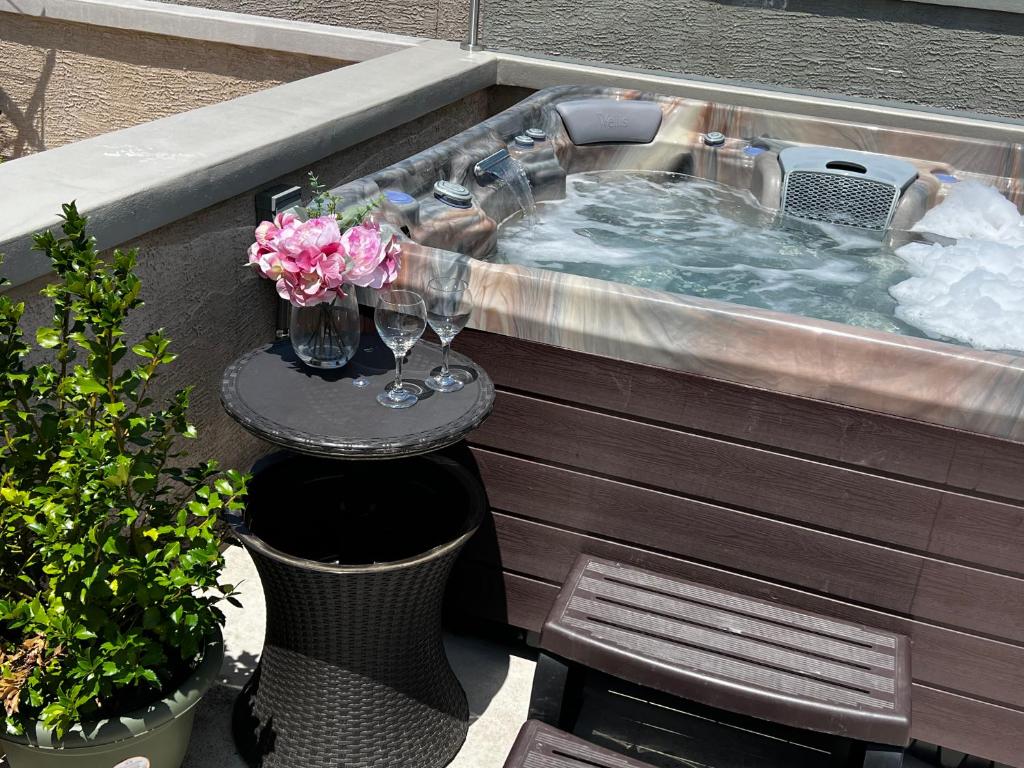 Center City Roofdeck Hot Tub w Garage is a luxurious holiday home located in the heart of Philadelphia. With a terrace offering stunning views, this property is just 2.1 km away from Liberty Bell and 1.8 km from Barnes Foundation. The air-conditioned accommodation features 5 bedrooms, a fully equipped kitchen with a fridge and oven, as well as 3 bathrooms complete with a hot tub, hairdryer, and washing machine. Guests can also enjoy complimentary WiFi and private parking on site. For added relaxation, a hot tub is available for guests to use. Additionally, the holiday home is conveniently situated near popular attractions including National Liberty Museum (2.4 km), Pennsylvania Convention Center (1.1 km), Temple University (2.6 km), and Philadelphia Museum of Art (2.9 km). Philadelphia International Airport is the closest airport at just 16 km away.
– Terrace with stunning views
– Fully equipped kitchen
– Complimentary WiFi
– Private parking available
– Convenient location near popular attractions
Blue Lodge (Hesston)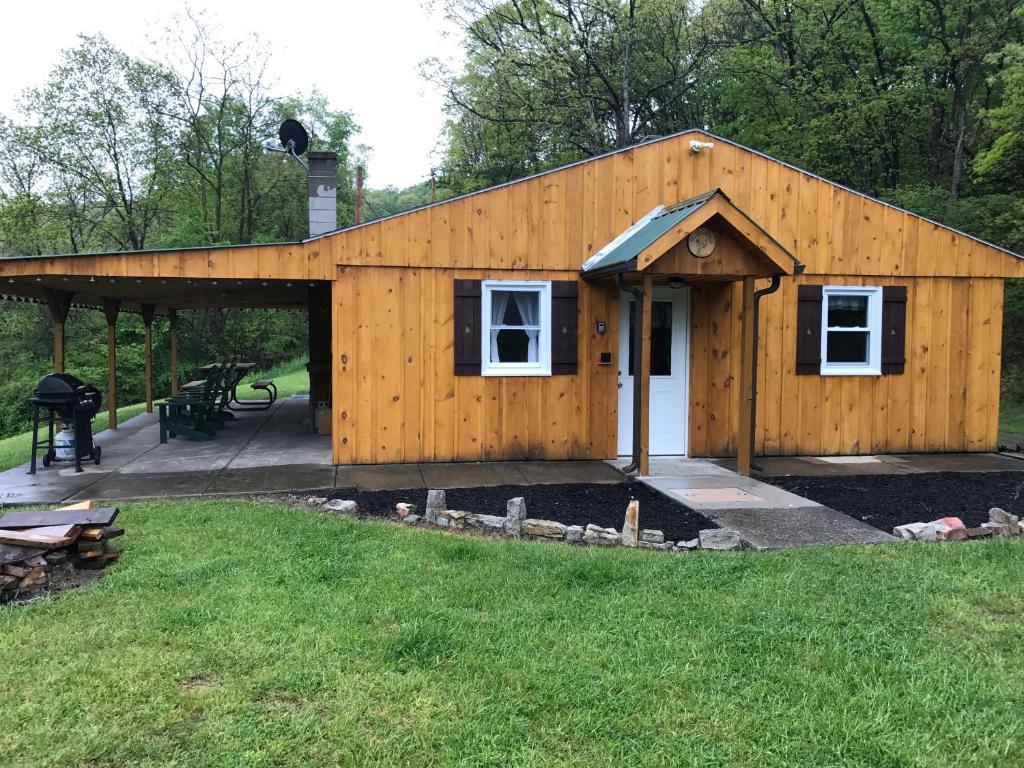 Located just 8 km from Raystown Lake, Blue Lodge is a stunning holiday home that offers guests a tranquil and luxurious retreat. The property boasts a private three-acre pond, perfect for fishing enthusiasts (catch and release only), as well as a cozy patio area where guests can unwind and enjoy the beautiful surroundings. With its convenient location, the nearest airport, University Park Airport, is just 52 km away. Blue Lodge provides the ideal blend of comfort and natural beauty for an unforgettable getaway.
– Tranquil location surrounded by natural beauty
– Private three-acre pond for fishing
– Cozy patio area to relax and unwind
– Convenient proximity to Raystown Lake
– Close to University Park Airport for easy access
Quaint Pittsburgh Pad with Deck 5 Mi to Downtown!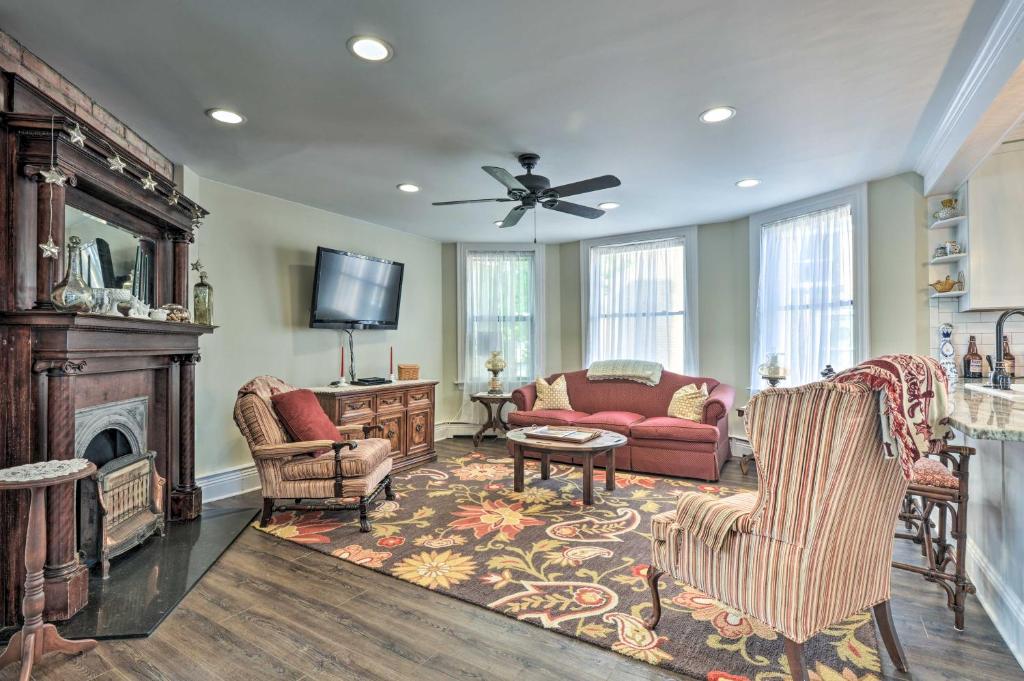 Located in Pittsburgh, just 5 miles from downtown, Quaint Pittsburgh Pad with Deck offers comfortable accommodation with modern amenities. This air-conditioned holiday home features two bedrooms, a cozy living room, a fully equipped kitchen with a fridge, and a bathroom with complimentary toiletries. Guests can enjoy free WiFi and relax on the deck. With popular attractions such as Heinz Field and Pittsburgh Children's Museum within 5 miles, guests can easily explore the city's vibrant culture. Additionally, Point State Park and David L. Lawrence Convention Center are located nearby. The nearest airport is Pittsburgh International Airport, just 19 km away.
– Convenient location close to downtown Pittsburgh
– Free WiFi for staying connected
– Fully equipped kitchen for self-catering convenience
– Comfortable living space for relaxation
– Deck area for outdoor enjoyment
Information about Private Villas in Pennsylvania
| | |
| --- | --- |
| 🏢 Number of Private Villas in Pennsylvania | 6 |
| 🥇 Average Review Score | 9.6/10 |
| 💰 High season average price | 1996 |
| 💸 Low season average price | 499 |
FAQ
Can I find private villas in Pennsylvania?
Yes, there are several private villas available for rent in Pennsylvania. Whether you're looking for a cozy villa nestled in the countryside or a luxurious waterfront property, you'll be able to find the perfect accommodation to suit your needs. From secluded retreats with stunning views to villas located close to city attractions, Pennsylvania offers a range of options for those seeking privacy and relaxation.
What amenities can I expect in a private villa in Pennsylvania?
Private villas in Pennsylvania often come equipped with a wide range of amenities to ensure a comfortable stay. These may include spacious bedrooms with en-suite bathrooms, fully equipped kitchens, living areas with cozy fireplaces, private pools or hot tubs, outdoor seating areas for dining or lounging, and even access to recreational facilities like golf courses or tennis courts. Many villas also provide additional services such as daily housekeeping and concierge assistance.
Are private villas more expensive than hotels?
The cost of renting a private villa in Pennsylvania can vary depending on factors such as location, size, and seasonality. While some luxury hotels may offer similar rates for certain high-end rooms or suites, generally speaking, renting a private villa tends to be more expensive than booking traditional hotel accommodations. However, it's important to consider that when staying at a villa you have exclusive use of the entire property and its amenities which can provide added value and privacy compared to staying at a hotel.
How do I book a private villa in Pennsylvania?
Booking a private villa in Pennsylvania is usually done through specialized agencies or directly with the property owner. You can start by conducting an online search for "private villas in Pennsylvania" which will lead you to various platforms where these properties are listed. Once you find one that suits your preferences and budget, simply contact the agency or owner directly via email or phone provided on their website and inquire about availability and booking procedures.
What are some popular areas in Pennsylvania for private villas?
Pennsylvania offers a diverse range of locations where you can find private villas. Some popular areas include the Pocono Mountains, where you can enjoy stunning natural beauty and outdoor activities, such as hiking or skiing
Popular Private Villas destinations
Top 6 Private Villas in Pennsylvania