Welcome to the enchanting world of exclusive residences in the Eastern Cape, South Africa. Nestled amidst breathtaking vistas and verdant landscapes, these opulent abodes offer an unparalleled retreat for those seeking privacy and tranquility. Whether you yearn for a secluded beachfront haven or a hideaway nestled in the heart of nature, the Eastern Cape's private villas cater to every discerning traveler's desires.
Experience utter bliss as you step into your personal sanctuary adorned with lavish furnishings and bespoke amenities. Indulge in the epitome of luxury living as you unwind by your private infinity pool, sipping on a refreshing cocktail while soaking up panoramic views of rugged coastlines or lush forests. Immerse yourself in exquisite interiors that blend contemporary elegance with authentic African charm, allowing you to feel connected to this remarkable land at every turn.
Choose from an array of world-class services tailored to surpass your expectations – from private chefs crafting gourmet meals using locally sourced ingredients, to dedicated concierge teams who curate unforgettable experiences tailored solely for you. Embark on exhilarating wildlife safaris through renowned national parks or explore vibrant cultures through engaging cultural tours curated exclusively for villa residents.
In Eastern Cape's private villas, expect nothing less than an extraordinary getaway defined by luxurious seclusion and personalized attention.
Best Eastern Cape Private Villas
Maitlands Cottage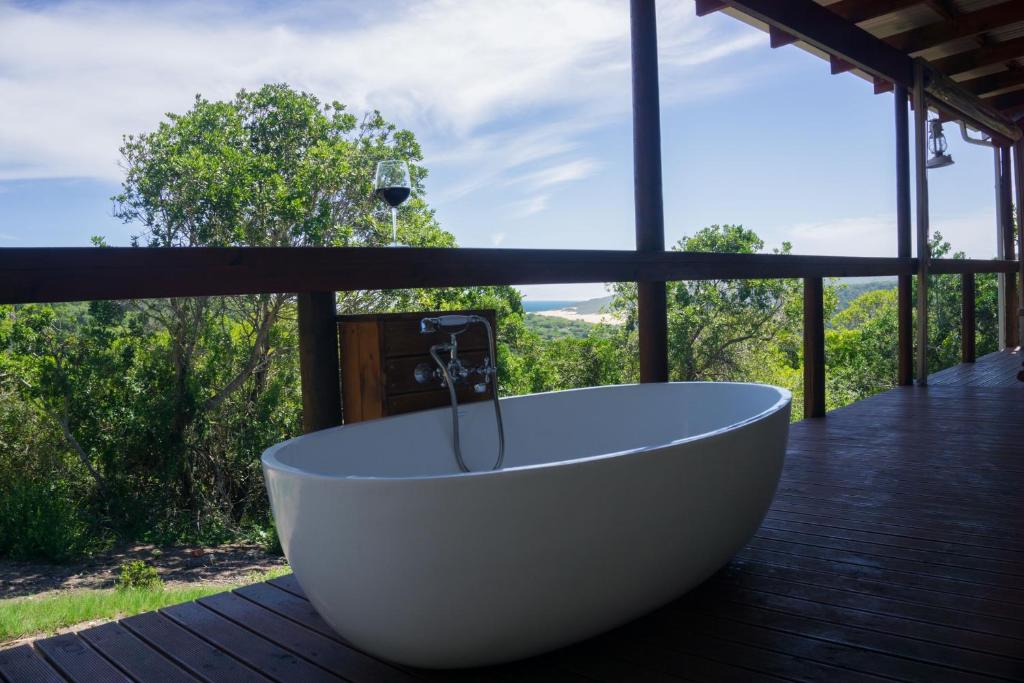 Set in Port Elizabeth, just 2.9 km from Maitland Beach, Maitlands Cottage is a charming holiday home offering a comfortable and relaxing stay. With its beautiful garden, terrace, and barbecue facilities, guests can enjoy the outdoors while taking advantage of the free WiFi provided. The property also offers free private parking for added convenience. Ideal for nature lovers, there are plenty of activities to engage in such as hiking and fishing nearby. The holiday home features a well-equipped kitchen complete with a fridge, oven, and dishwasher for self-catering purposes. It also includes a spacious living room with a seating area and dining area, two bedrooms, and two bathrooms with shower and bath facilities. Towels and bed linen are provided for guests' comfort during their stay. For those looking to explore the surrounding areas, Seaview Game & Lion Park is just 13 km away while Sardinia Bay Golf Club is 21 km from the property. The nearest airport is Chief Dawid Stuurman International Airport located 36 km away.
– Beautiful garden
– Terrace with outdoor seating
– Barbecue facilities available
– Free WiFi
– Well-equipped kitchen
Exclusive Poolside Villa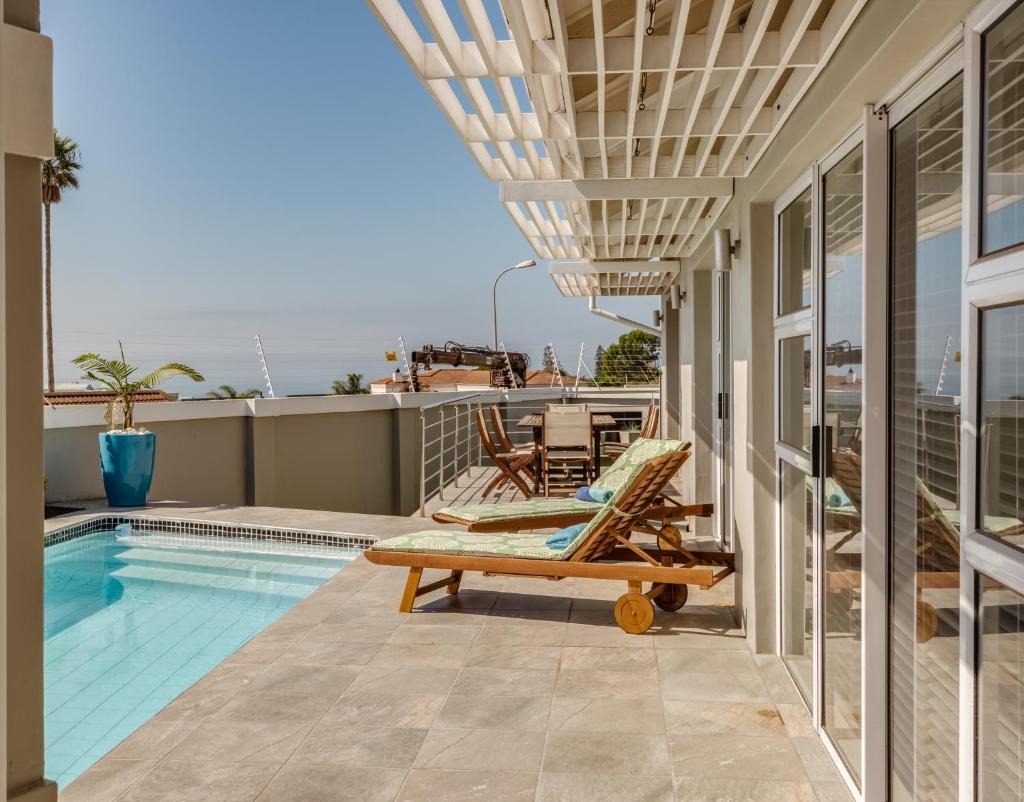 Located in Humewood, the Exclusive Poolside Villa offers a luxurious and peaceful retreat for guests. With stunning pool views, this villa boasts an outdoor swimming pool and a terrace, perfect for soaking up the sun. The villa features two bedrooms, a spacious living room, a fully equipped kitchen, and two bathrooms. Guests can enjoy the private pool and garden area or make use of the barbecue facilities for an al fresco dining experience. Free WiFi and private parking are available, ensuring convenience throughout your stay. Just a short distance away are popular beaches such as Denville Beach and Humewood Beach, ideal for those seeking some coastal relaxation. Additionally, Chief Dawid Stuurman International Airport is conveniently located nearby.
– Breathtaking pool views
– Private pool for ultimate relaxation
– Fully equipped kitchen for self-catering options
– Convenient location near popular beaches
– Free WiFi and private parking
Mackenzies Accommodation (East London)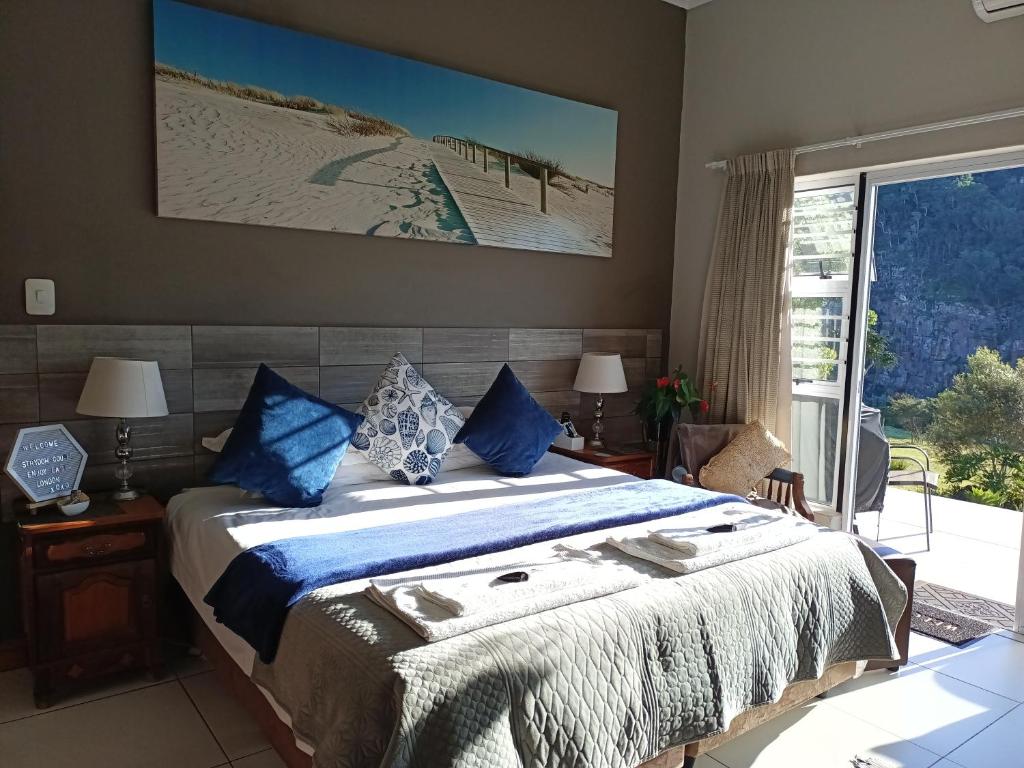 Located on the idyllic banks of the Nahoon River in the quiet suburb of Dorchester Heights, Mackenzies Accommodation in East London offers a tranquil and picturesque holiday home experience. The property features a cottage and a family apartment, both equipped with dining and living areas, kitchen facilities, and private patios. Guests can enjoy free WiFi and parking during their stay. The Luxury Double Room boasts its own private entrance along with modern amenities such as a fridge, microwave, and coffee/tea station. For an additional surcharge, guests can indulge in a delicious English breakfast served in the breakfast area that overlooks the serene garden filled with lush lawns and vibrant birdlife. Further relaxation awaits on the terrace or patio complete with a shared hot tub or by exploring the sprawling garden leading down to the Nahoon River. When it comes to activities, guests can partake in nearby cycling or hiking adventures while also being within close proximity to beautiful beaches just 10 km away. Conveniently located only 19 km from East London Airport, Mackenzies Accommodation provides an exceptional retreat for those seeking peace and tranquility.
– Peaceful riverside location
– Modern amenities including free WiFi
– Private patios for each accommodation option
– Scenic garden with rolling lawns and abundant birdlife
– Close proximity to beaches for sun-soaked relaxation
Other places to stay in Eastern Cape
Best Private Villas in Eastern Cape With a View
The Eastern Cape in South Africa is home to some of the most breathtaking private villas with stunning views. From overlooking pristine beaches and rugged cliffs to lush forests and rolling hills, these private villas offer guests a truly immersive experience in nature's beauty.
Trengwainton House (Hogsback)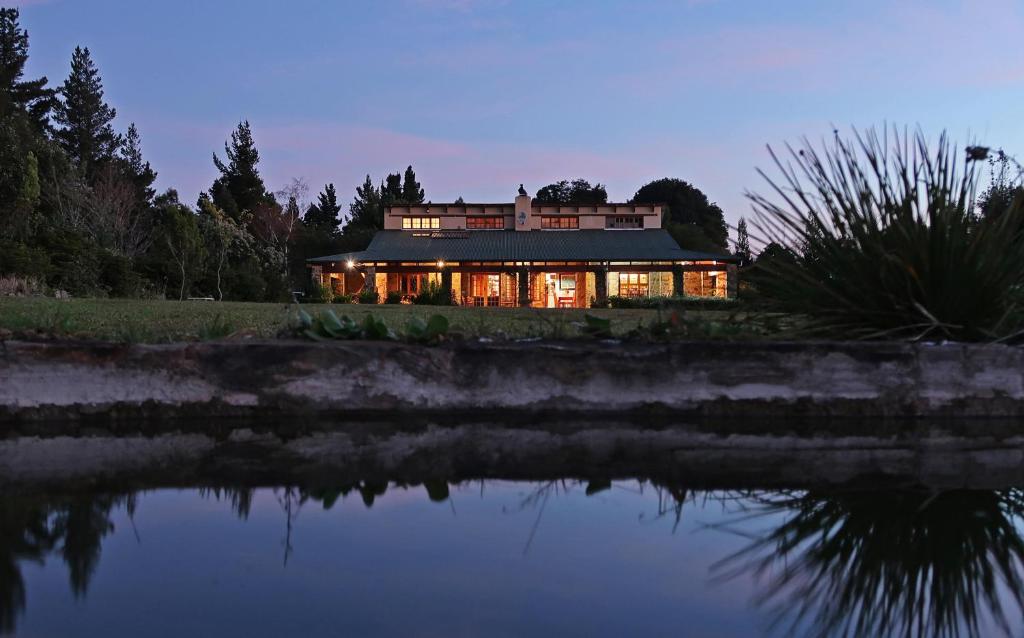 Located in Hogsback, Trengwainton House is a charming holiday home offering comfortable accommodation amidst beautiful natural surroundings. The property features a garden with a barbecue, allowing guests to enjoy outdoor dining and relaxation. Some of the accommodations include a terrace, providing stunning mountain views. Guests can also take advantage of the fully equipped kitchen and shared bathroom facilities with a shower. For those flying in, Queenstown Airport is the closest airport, located 108 km away from this idyllic holiday home.
– Beautiful natural surroundings
– Garden with barbecue for outdoor dining
– Terrace with mountain views
– Fully equipped kitchen
– Close proximity to Queenstown Airport
Home Away From Home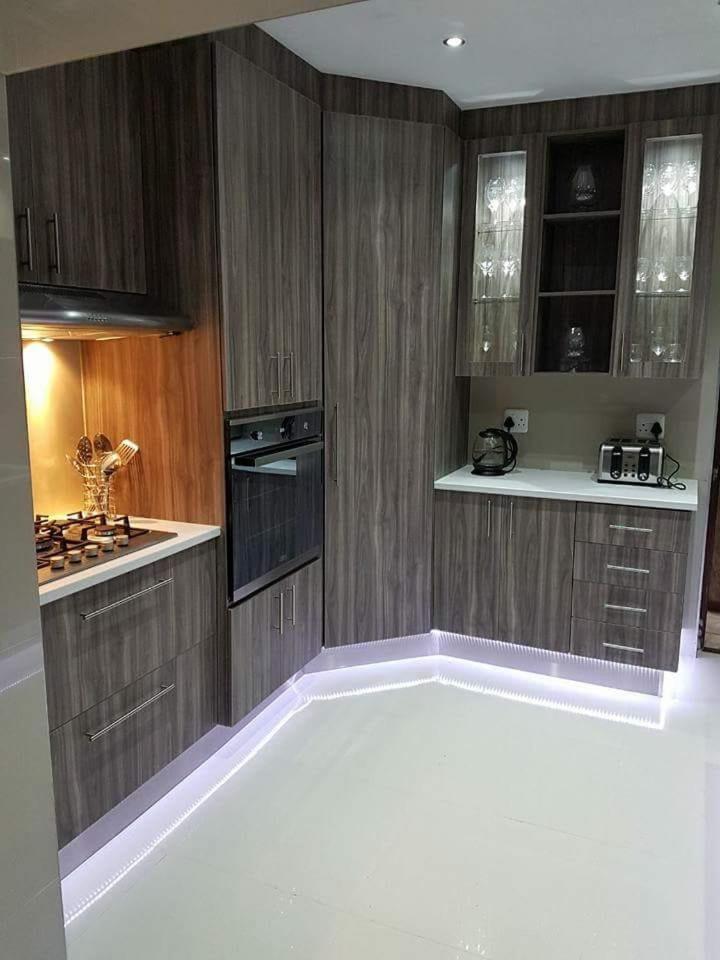 Home Away From Home in Port Elizabeth is a stunning holiday home that offers guests a luxurious and comfortable stay. With its seasonal outdoor swimming pool, bar, and shared lounge, guests can enjoy the beautiful surroundings with pool views. The spacious holiday home features 4 bedrooms, each equipped with a flat-screen TV with satellite channels. The fully equipped kitchen includes modern appliances such as a dishwasher and microwave, while the 3 bathrooms offer convenience with showers. Guests can relax in the private garden or take advantage of the terrace for some outdoor indulgence. Additionally, free WiFi and private parking are available for all guests. Start your day off right with a delicious continental or buffet breakfast served at the property. For those looking to explore the area, Nelson Mandela Bay Stadium is just 12 km away, while The Boardwalk is 15 km from Home Away From Home. Conveniently located near Port Elizabeth International Airport (10 km), this holiday home truly provides an unforgettable experience.
– Seasonal outdoor swimming pool
– Beautiful pool views
– Spacious accommodation with 4 bedrooms
– Fully equipped kitchen
– Free WiFi
Information about Private Villas in Eastern Cape
| | |
| --- | --- |
| 🏢 Number of Private Villas in Eastern Cape | 5 |
| 🥇 Average Review Score | 9.6/10 |
| 💰 High season average price | 1078 |
| 💸 Low season average price | 269.5 |
FAQ
Can I find private villas in Eastern Cape, South Africa?
Yes, there are numerous private villas available for rent in the Eastern Cape region of South Africa. Whether you're looking for a beachfront retreat or a secluded countryside escape, there are various options to suit your preferences and budget. These private villas offer luxurious amenities and stunning views, providing an exclusive and comfortable stay for visitors.
What facilities can I expect in a private villa?
Private villas in Eastern Cape usually come with a range of facilities to ensure guests have a memorable experience. Some common amenities include spacious bedrooms with en-suite bathrooms, fully equipped kitchens, swimming pools, outdoor entertainment areas with BBQ facilities, Wi-Fi access, and secure parking. Additionally, many private villas also provide housekeeping services and access to nearby attractions or activities.
Are the private villas staffed with personnel?
It depends on the specific villa you choose to rent. Some private villas in Eastern Cape may come with dedicated on-site staff such as housekeepers or chefs who cater to your needs during your stay. However, other properties might offer self-catering options where you have full privacy without any staff present on the premises. It's advisable to check the details and services provided by each individual villa before making a booking.
How can I book a private villa in Eastern Cape?
Booking a private villa in Eastern Cape is relatively easy. You can start by researching online platforms specializing in luxury accommodations or contacting local travel agencies that specialize in villa rentals. These sources will provide you with detailed information about available properties along with their rates and availability. Once you've selected your preferred villa, you can make reservations directly through their website or via email/phone communication.
What are some popular attractions near private villas in Eastern Cape?
Eastern Cape offers plenty of attractions near its private villas that cater to different interests. For wildlife enthusiasts, Addo Elephant National Park is a must-visit, where you can witness elephants, lions, and other animals in their natural habitat. The coastal town of Port Elizabeth is another popular destination with beautiful beaches and a vibrant waterfront. Other attractions include the Tsitsikamma National Park for hiking enthusiasts and the historical city of Grahamstown for culture and history buffs.
Popular Villas destinations
Top 5 Private Villas in Eastern Cape