Welcome to our latest exploration of the exquisite world of exclusive residences in Ibiza, Spain. Known as a vibrant haven for party-goers and beach lovers alike, this captivating island also boasts an extensive collection of luxurious retreats that offer privacy and opulence at its finest. In this edition, we delve into the enchanting realm of private villas, where discerning travelers can indulge in a truly lavish experience away from the hustle and bustle.
Nestled amidst stunning landscapes, these secluded sanctuaries cater to those seeking an intimate hideaway with all the creature comforts one could desire. Immerse yourself in a world where tranquility meets indulgence as you enter these elegant abodes that are meticulously designed to provide a seamless blend of modern aesthetics and authentic local charm. With each villa boasting its own unique character and design flair, guests can revel in hand-picked furnishings, panoramic views, lush gardens or private pools that redefine luxury living.
Embark on a journey with us as we uncover some hidden gems amongst Ibiza's most sought-after private villas – spaces filled with serenity, seclusion, and supreme comfort – where every moment is tailored to create unforgettable memories. Whether you're planning a romantic escape or gathering loved ones for an extraordinary celebration, let us be your guide to discovering the epitome of elegance tucked away within this radiant Mediterranean gem.
Best Ibiza Private Villas
Villa Palmera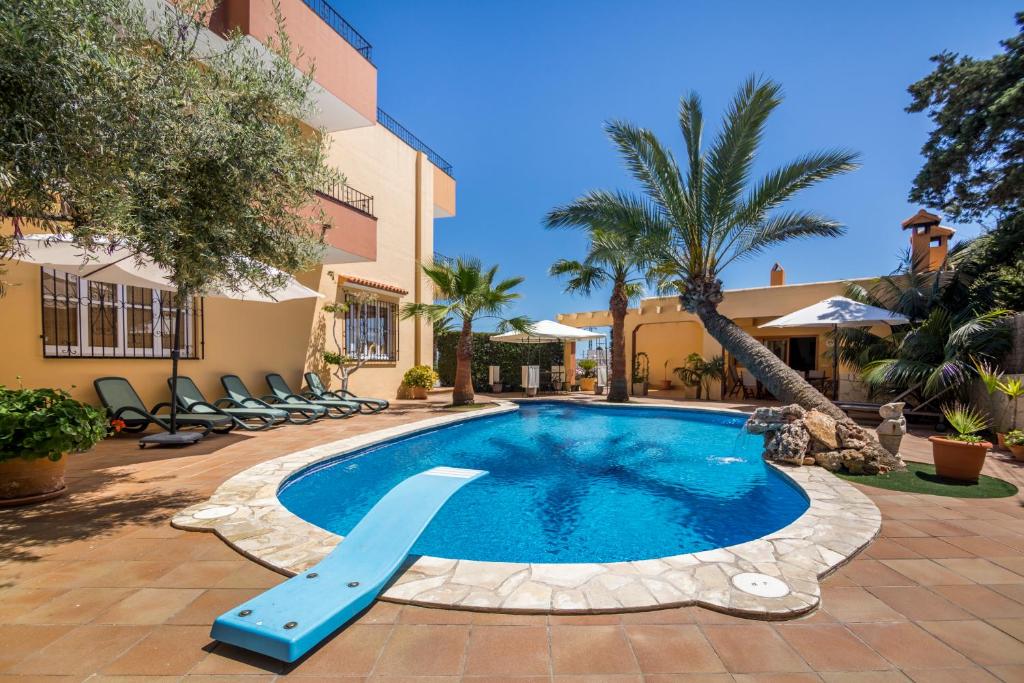 Villa Palmera is a stunning luxury villa located in Ibiza Town. With its outdoor swimming pool, beautiful garden, and terrace offering breathtaking city views, this villa provides the perfect getaway for travelers seeking tranquility and relaxation. The villa features 4 spacious bedrooms, a cozy living room, and a fully equipped kitchen with modern amenities. Additionally, guests can enjoy the convenience of free WiFi, barbecue facilities, and free private parking. For those looking to explore the area, Villa Palmera offers both bicycle and car rental services. The villa is conveniently situated near popular beaches such as Playa d'en Bossa Beach and Figueretes Beach. The closest airport is Ibiza Airport which is just 4 km away from the property, with a paid airport shuttle service available upon request.
– Outdoor swimming pool
– Stunning city views from terrace
– Free WiFi access
– Convenient location near popular beaches
– Bicycle and car rental services available
Can Mariano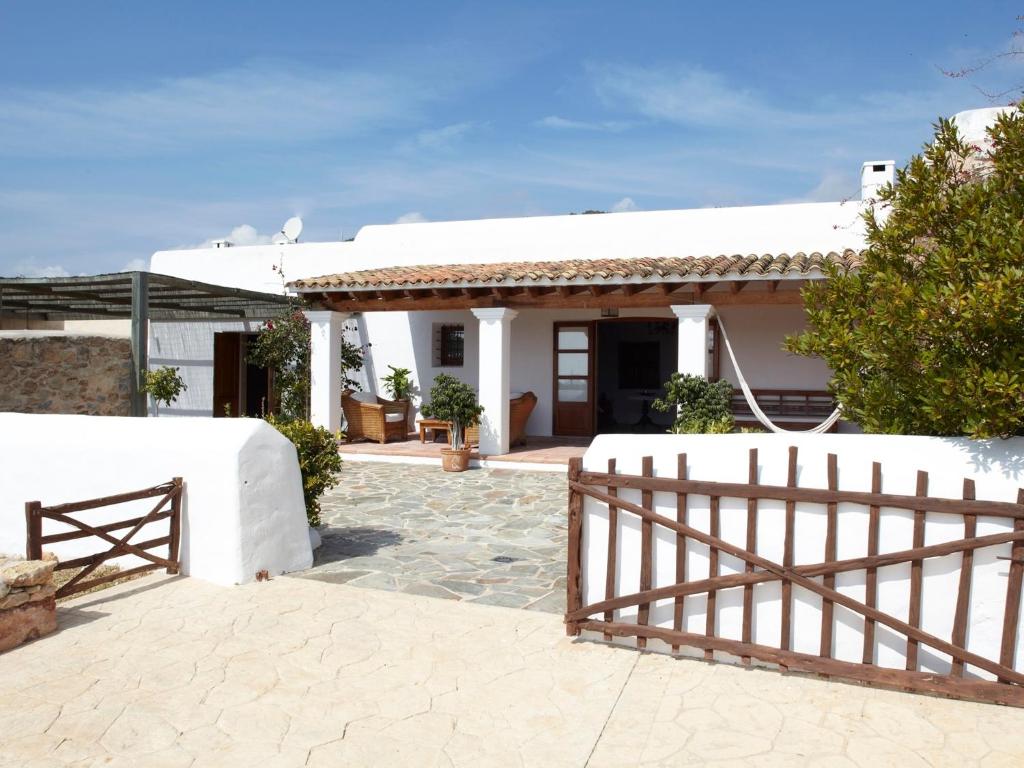 Can Mariano is a stylish villa nestled in the hills of Ibiza, just a 7-minute drive from the vibrant centre of Ibiza Town. This luxurious retreat offers guests a spacious garden with an inviting outdoor pool, offering breathtaking views over the city and a terrace equipped with a barbecue and long dining table. With 6 bedrooms and a lounge area boasting comfortable sofas, a cozy fireplace, and flat-screen TV, Can Mariano ensures that guests have ample space to relax and unwind. From June to September, the villa also provides a complimentary cleaning service for added convenience. The elegant dining room features its own fireplace, while the fully-equipped kitchen includes modern appliances such as an oven, hob, microwave, washing machine, and dishwasher. For entertainment purposes, there is even a games room complete with billiards, table football, and arcade games available for use by guests. Additionally, guests can take advantage of the free Wi-Fi provided throughout their stay. Conveniently located just 1000 meters away are supermarkets catering to any needs or desires that may arise during your stay at Can Mariano. Furthermore, both Playa d'en Bossa and Playa de Salinas beaches can be reached in under 10 minutes by car—a perfect option for those looking to soak up some sun or experience Ibiza's renowned nightlife scene. Lastly but certainly not least importantly for travelers seeking ease in their journey plans , this exceptional villa provides easy access to Ibiza Airport—a mere 7-minute drive away- ensuring effortless arrivals and departures from this idyllic destination.
Pros:
– Stunning views over Ibiza Town
– Spacious garden with outdoor pool
– Complimentary cleaning service during peak season
– Games room featuring billiards and arcade games
– Free Wi-Fi throughout property
Casa Klod Ibiza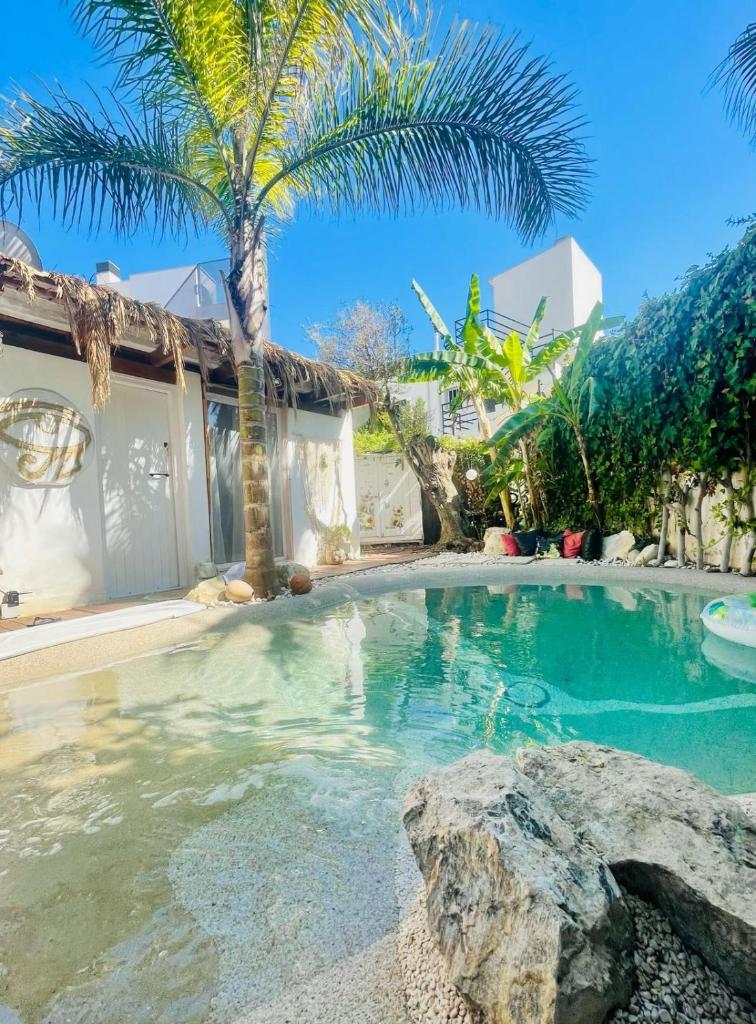 Casa Klod Ibiza is a charming holiday home located in the center of Ibiza Town. Divided into three separate parts, each connected only by the garden, this property offers privacy and independence for guests. The main house features a spacious living room and one bedroom with a king-size bed. The other two parts of the house each have their own rooms with queen-size beds and bathrooms. Guests can enjoy a refreshing swim in the swimming pool or relax in the sun terrace while taking in the beautiful sea view. The house also offers modern amenities such as a kitchen with a fridge, microwave, and coffee machine, as well as free WiFi and a flat-screen TV.
– Independent villas offering privacy
– Beautiful garden view from the rooms
– Access to swimming pool
– Convenient location near the beach and Ibiza port
– Free WiFi available throughout
Other places to stay in Ibiza
Best Private Villas in Ibiza With a View
These private villas in Ibiza offer stunning views of the island, perfect for those seeking a serene and picturesque getaway. With their secluded locations and breathtaking vistas, guests can relax and unwind while enjoying the beauty of Ibiza from their own private oasis.
Cana Maria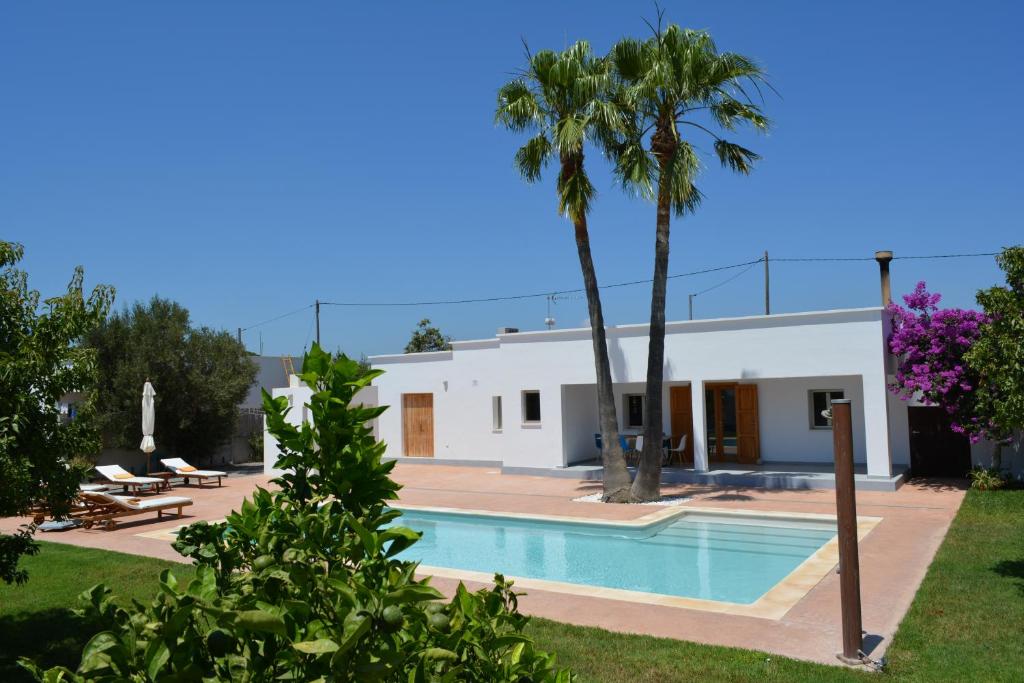 Located in Ibiza Town, Cana Maria is a stunning holiday home that offers guests a luxurious and comfortable stay. With an outdoor swimming pool, a garden, and a shared lounge, guests can relax and unwind in beautiful surroundings. The property also features free WiFi and offers breathtaking garden views. Guests can enjoy the privacy of their own private pool and have access to free private parking. The holiday home itself is spacious and well-appointed with 3 bedrooms, 2 bathrooms, bed linen, towels, a flat-screen TV with satellite channels, a dining area, a fully equipped kitchen, and a terrace with pool views. For those looking to explore the island's beaches or visit Ibiza Port for some shopping or dining experiences, Playa d'en Bossa Beach is just 2.2 km away while Ibiza Port is only 5.4 km away from the property. With its convenient location near Ibiza Airport (which is only 2 km away), Cana Maria provides easy access for travelers arriving by air.
– Outdoor swimming pool
– Beautiful gardens
– Free WiFi
– Private pool
– Spacious accommodation with modern amenities
Villas S'Argamassa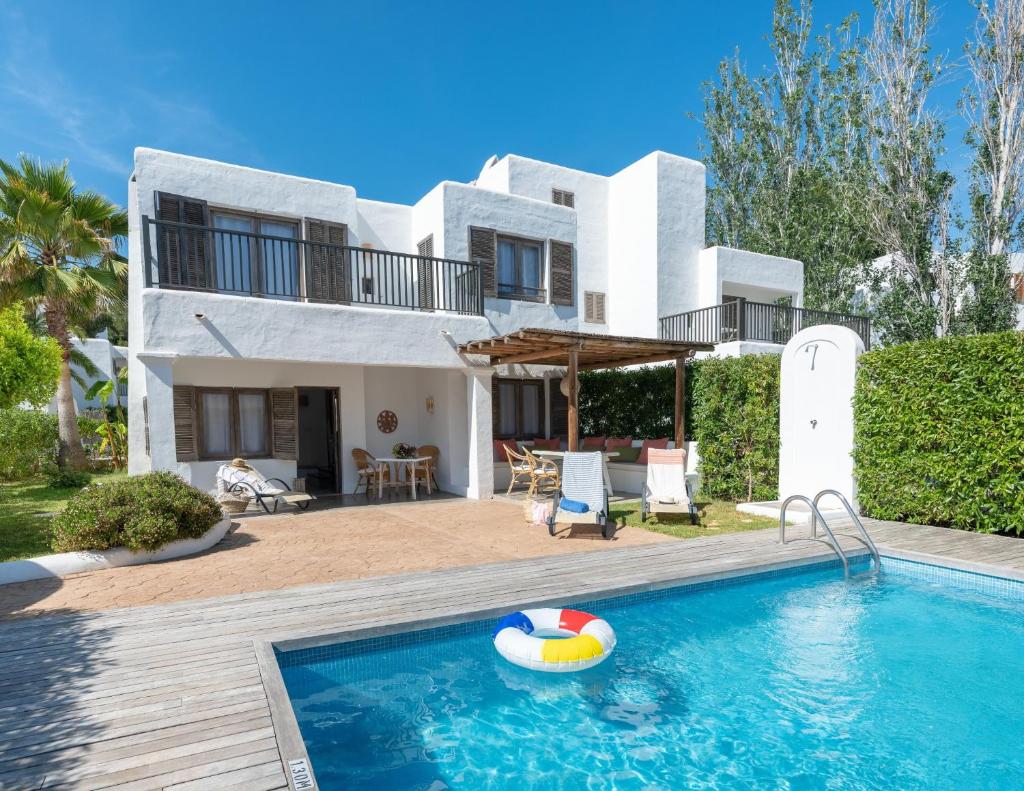 Villas S'Argamassa is a stunning self-catering villa complex located just 200 meters from the renowned Nikki Beach, a popular hotspot in Ibiza. Each stylish villa offers guests their own private garden and a seasonal outdoor pool to relax and unwind in. The villas feature a spacious living room with a TV and safe, as well as three bathrooms and a well-equipped kitchen complete with a fridge, microwave, and coffee maker. Guests can enjoy delicious food and drinks throughout the day at the on-site seasonal gastronomical restaurant. The property also boasts amenities such as a children's playground and communal garden area. With Santa Eulària des Riu just 3 km away and Ibiza Town only a 20-minute drive, Villas S'Argamassa provides the perfect mix of tranquility and proximity to local attractions.
– Stylish villas with private gardens
– Seasonal outdoor pool for relaxation
– Proximity to Nikki Beach club
– On-site gastronomical restaurant serving food and drinks all day
– Convenient location near Santa Eulària des Riu and Ibiza Town
Casa Lui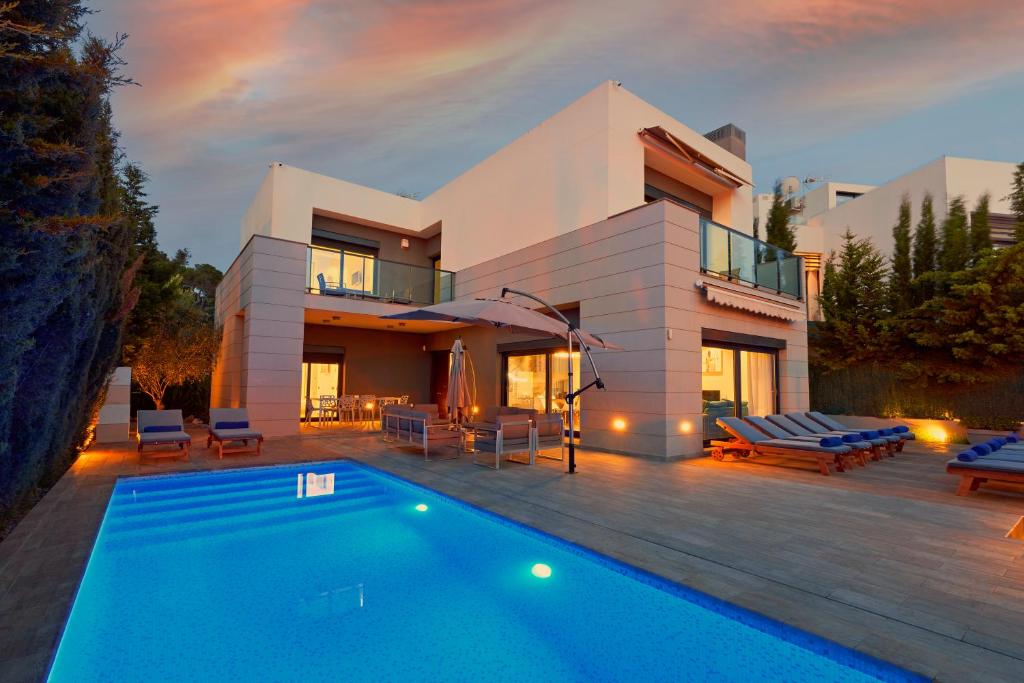 Casa Lui is a stunning holiday home located in Ibiza Town, offering guests a luxurious and comfortable stay. With free WiFi and a terrace boasting beautiful views of the city, this property provides an ideal getaway. The holiday home features en suite bathrooms with showers in most of its bedrooms, as well as a well-equipped kitchen complete with a dishwasher, oven, coffee machine, and kettle. Guests can enjoy entertainment on the flat-screen TV and DVD player or take a refreshing dip in the year-round outdoor pool. Conveniently located near popular attractions such as Pacha nightclub, Marina Botafoch, and Dalt Vila, Casa Lui offers easy access to entertainment and sightseeing opportunities. With free private parking available on site and the Aeropuerto de Ibiza Airport just 9 km away, guests can easily explore the surrounding area at their own pace. Additionally, Talamanca Beach is only 500 metres from the accommodation.
– Free WiFi
– Terrace with city views
– En suite bathrooms in most bedrooms
– Well-equipped kitchen
– Year-round outdoor pool
Information about Private Villas in Ibiza
| | |
| --- | --- |
| 🏢 Number of Private Villas in Ibiza | 6 |
| 🥇 Average Review Score | 9.5/10 |
| 💰 High season average price | 1208 |
| 💸 Low season average price | 302 |
FAQ
Can I rent a private villa in Ibiza for a short stay?
Yes, many private villas in Ibiza offer flexible rental options, including short stays. Whether you're planning a weekend getaway or want to experience the island's vibrant nightlife for a few days, there are numerous luxury villas available for shorter rental periods. From stunning beachfront properties to secluded hilltop retreats, you can find the perfect private villa in Ibiza to suit your preferences and duration of stay.
What amenities can I expect in a private villa in Ibiza?
Private villas in Ibiza are known for their exceptional amenities that provide an indulgent and luxurious experience. Most villas feature spacious living areas, fully equipped kitchens, stylish bedrooms with ensuite bathrooms, outdoor terraces with swimming pools or jacuzzis, lush gardens or courtyards for relaxation, BBQ facilities for al fresco dining, and even additional perks such as private gyms or cinema rooms. Additionally, some villas offer services like housekeeping and concierge assistance to ensure your every need is met during your stay.
Are private villas in Ibiza suitable for families with children?
Absolutely! Private villas in Ibiza cater to families with children by providing child-friendly facilities and services. Many villas have secure gardens or fenced-in pool areas to keep young ones safe while they play outdoors. Some may also offer baby cots and high chairs upon request. Moreover, certain luxury villa rentals can arrange additional services like babysitting or activities tailored specifically for kids to ensure an enjoyable family vacation on the island.
Can I organize events or parties at a private villa in Ibiza?
Certainly! One of the advantages of renting a private villa is the opportunity to host events and parties surrounded by luxury and privacy. Many exclusive villas in Ibiza allow guests to organize gatherings such as birthdays, weddings, corporate retreats, or special celebrations within their premises. However, it is important to communicate your plans with the villa management in advance, as some properties have specific policies or restrictions regarding events, noise levels, or guest capacity.
Are private villas in Ibiza expensive compared to other accommodations?
Private villas in Ibiza generally offer a higher level of luxury and exclusivity compared to other types of accommodations on the island. As such, they are often priced accordingly. However, there is a wide range of private villa options available in terms of size, location, and amenities that cater to different budgets. It's important to consider factors such as the number of guests sharing the villa and the desired level of luxury when comparing prices. Additionally, booking during off-peak seasons or for longer durations might also result in more favorable rates for private villas in Ibiza.
Popular Private Villas destinations
Top 6 Private Villas in Ibiza